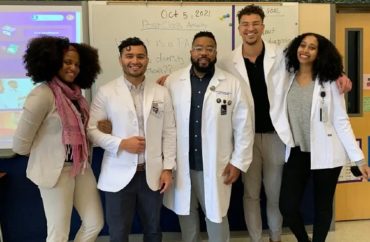 'Racial caucusing' puts lipstick on the pig of segregation
Today I would like to propose a new theory for political language – the longer  and more unclear the name of an idea, the likelier it is that the phrase is meant as a cover-up.
For evidence I present "racial affinity group caucusing," an idea proposed by several healthcare professionals.
"Racial affinity group caucuses" can help "dismantle the systems that perpetuate these inequities," in healthcare, the opinion piece in the New England Journal of Medicine argues.
The lead author is Leanna Lewis, a social worker and the director of the University of California San Francisco's "Program in Medical Education for the Urban Underserved."
She is joined in her call for racial "caucusing" by UCSF Professor Camila Fabersunne, a pediatrician, and Dr. Corina Iacopetti, whose education includes not only medical degrees but "Diversity, Equity, and Inclusion Champion Training," according to her bio.
These caucuses, abbreviated RAGCs, "are facilitated sessions involving participants grouped according to self-identified racial or ethnic identity to support integration of antiracism curricula into clinical practice."
The sessions, which are separate but equal, are "part of a broader antiracism and antioppression curriculum."
The caucusing "engages participants in critical introspection through the lens of their own racialized experience and enhances learning by building community and encouraging praxis, the integration of theory, self-reflection, and action."
These segregated groups, I mean caucused by race, are needed because "medical education has historically centered White learners and continues to perpetuate structural racism." The authors claim medical education was "[f]ounded on legacies of colonialism and racism."
The citation for this paper is another NEJM publication that included UCSF colleague Dr. Catherine Chen. But that citation never uses the word "colonialism," despite the assertion by the authors.
MORE: NEJM runs political garble
One benefit of the caucuses, according to the journal article, is that black students simply learn better when their white peers are not around them asking questions and participating in discussions.
The authors argue:
RAGCs also allow Black learners to explore their experience of racism and contextualize their understanding of antiracism without the burden of educating or taking care of non-Black colleagues, and without facing the otherwise-common denial, gaslighting (undermining another person by causing them to doubt their own perceptions and experience), and White fragility.
The complaints that black individuals have to help their white peers learn about racism is a Catch-22, as you can probably tell. When white individuals call out racism or participate in DEI activities, they are assuming that black individuals need them, as white people, to help out.
So in the minds of race-obsessed liberals, this is also racism. But when white individuals ask their black peers to help them understand racial issues, this is a "burden" because it assumes that black people should bear the brunt of helping others understand racism.
That is why in the separate but equal white caucus, students "can learn to be thoughtful allies who are less dominating in integrated spaces, to elevate the voices and leadership of BIPOC colleagues, and to iteratively reevaluate their own internalized racism and sense of superiority that can obstruct antiracist commitment and action."
The political letter received criticism from Do No Harm, a group founded by former University of Pennsylvania med school Associate Dean Dr. Stanley Goldfarb.
"We join with diverse medical professionals in calling for real solutions to the root causes of persistent health disparities," the open letter stated. "Divisive and racist language will only hold back progress. The Journal should apologize for running such an illiberal and extremist article, and ask itself why it was published in the first place."
"Anything less sends a deeply concerning message about the priorities – and indeed, the principles – of the New England Journal of Medicine," Goldfarb wrote.
MORE: Pitt diversity office hosts 'students of color' grad ceremony
IMAGE: Project Access
Like The College Fix on Facebook / Follow us on Twitter