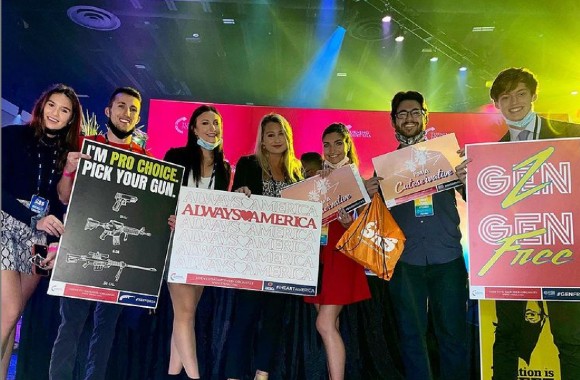 ANALYSIS: Almost a month later, no reports of predicted outbreak
In the run-up to Turning Point USA's Student Action Summit in late December, media outlets such as Mother Jones and Vanity Fair unfairly stoked fears about the possibility of the event leading to an outbreak of coronavirus.
However, there is yet no evidence of a coronavirus outbreak linked to the conservative student gathering of thousands of attendees.
Meanwhile, local leaders and the media outlets who made the predictions will not respond to inquiries about the lack of an outbreak.
The predications had been dire, alleging it would be a "superspreader" event.
"Turning Point USA to Hold Superspreader Event in Palm Beach," one November 19 headline at Mother Jones said.
The article's author, Abigail Weinberg, cited herself and reiterated the claim in an article the next day about Donald Trump Jr. getting coronavirus. The president's son contracted coronavirus around Thanksgiving, a month before the event. He did speak in-person at the event in Florida.
Another liberal publication sounded the alarm over a coronavirus outbreak.
"Thousands of Young Conservatives May Hold Blowout Conference in Florida, COVID Be Damned," a December 19 headline at Vanity Fair said. A December 21 article by the same author, Caleb Ecarma, said the event "is turning into exactly the blowout event virologists feared."
What an incredible #SAS2020 experience!

All I can say is THANK YOU to our students, speakers and our dedicated @TPUSA staff who seamlessly pulled off this massive IN-PERSON event for thousands of young patriots

And a VERY special thanks to @VP Mike Pence for joining us

Onward! pic.twitter.com/PjTwFPWlaQ

— Charlie Kirk (@charliekirk11) December 23, 2020
"Zero [coronavirus] death reported," Andrew Kolvet, a spokesperson for TPUSA, said in a January 5 text message to The College Fix.
January 5 is 14 days after the summit ended on December 22, the time period public health officials have said is generally the longest time it would take for symptoms to appear.
Kolvet confirmed in another text message on January 11 that there were still no cases reported and that Palm Beach County did not ask them to put into place any reporting processes anyways.
MORE: Cornell professor explains why he overestimated coronavirus predictions
While no evidence is not the same as an evidence of no coronavirus, the predictions of a massive wave of COVID-19 infections appear to be unsubstantiated a few weeks after the event has taken place. There may be a number of coronavirus infections, but none of those reports appear to have come back to the conservative group.
And if there has been an outbreak of coronavirus, Palm Beach leaders are not saying so.
The Fix emailed Palm Beach Convention Center managers Dave Anderson and Mike Brodnicki twice in the past week, asking if they received any reports of coronavirus from the Turning Point conference, but neither responded to the inquiries.
Palm Beach County did not respond to a message submitted through its public affairs website for comment on Monday morning. The Fix asked the county if there were any reported cases of coronavirus traced to the TPUSA event.
The Fix also asked if public health officials in other localities generally reported cases to Palm Beach if the patient had been in Palm Beach.
They stoked fears, but will they follow-up to see if they were right?
"The occasion for this potential super-spreader gathering is the pro–Trump youth group Turning Point USA's year-end gala, kicking off Friday night at Mar-a-Lago, and its annual Student Action Summit, also in West Palm Beach," Ecarma said in his December 19 article.
He criticized students and said they were willing to risk the lives of their relatives in order to meet conservative commentators and politicos. Ecarma said he had covered TPUSA events before, but failed to mention that he actually used to be an activist and a writer for the conservative organization and several other conservative publications.
"Students who choose to attend might very well end pap-pap's [their grandpa's] life early, but they also might get lucky enough to take a selfie with Rudy Giuliani, hear one of Jesse Watters's rants live-in-concert, and if 2019's last-minute guest is any indicator, even hear one of Trump's last teleprompter-less presidential speeches," Ecarma said.
After mentioning Florida's coronavirus infections, Ecarma said:
Needless to say, the event could be detrimental to Palm Beach County's COVID-19 mitigation efforts, especially since it is taking place right as local medical officials are begging residents to heed health guidelines.
But while he proclaimed a potential outbreak before the event, Ecarma has been quiet on his predictions since then.
Ecarma did not respond to two emailed requests from The Fix in the past week seeking comment on if he planned a follow-up article on a possible outbreak or lack thereof. He also has not written about the event since it ended.
Likewise, Weinberg did not respond to two emailed requests for comment in the past week. The Fix asked her if the event ended up being a superspreader event and if she planned to ask the conservative organization about coronavirus infections.
Several other conservative groups plan to hold events in Florida in the coming month, including Young America's Foundation and the Conservative Political Action Conference.
MORE: Student activist gets approval for TPUSA group after initial denial
IMAGE: Turning Point USA at University of Kentucky/Twitter
Like The College Fix on Facebook / Follow us on Twitter