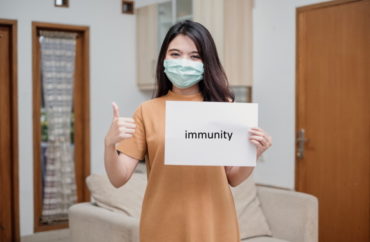 As COVID-19 leaves the world uncertain about future life, Professor Mark Hall of Wake Forest University Schools of Law and Medicine and Professor David Studdert of Stanford University Schools of Law and Medicine argue one proposed pathway to a return to normalcy — so-called immunity certificates — have complications tied to them.
Forgery. People infecting themselves to gain immunity. Equitable access to antibody tests. Test accuracy. These types of issues and more present problems, the scholars pointed out recently in a paper they co-authored.
Studdert told The College Fix that such challenges "are things to be careful about," but do not necessarily make immunity certifications "a bad idea."
Immunity certificates, also sometimes described as immunity passports, would be a sort of documentation that certifies someone has been infected and is now purportedly immune to COVID-19; with that, they can re-enter the world and be excused from lockdown orders.
The professors state such certificates may "give holders certain time-limited work and social freedoms, joining larger gatherings or returning to nonessential jobs."
But Hall and Studdert detail concerns that may affect the implementation of immunity certifications in their paper titled "Privileges and Immunity Certification During the COVID-19 Pandemic" and published May 6.
There would likely be inequitable access to antibody testing, for one. Supplies would pale in comparison to demand for them by the American populace, especially because a majority of the kits would go to first responders and healthcare workers, the professors state.
Demand skews affordability and thus accessibility, they added.
The scholars also suggest certificates may cause animosity. They argue individuals who conscientiously follow social distancing rules but do not receive immunity certificates may perceive that they are unfairly disadvantaged: they have done everything right yet are not being rewarded.
But the professors added such an immunity advantage is most likely short-lived because COVID-19 might not be long term, and a vaccine will very likely be developed in the next two years or so.
Still, developing some sort of standard and well-regulated immunity certificate process for the nation would be difficult, the professors write. Forgery, for example, could be a problem. Test accuracy is another issue.
What's more, immunity certificates could prompt incentives for deliberate autoinoculation, or self-infection.
"The behavior is reminiscent of the 'pox parties' that some vaccine-opposed parents hold for their children," the professors write. "… Ultimately, the US may need to tolerate some level of perverse behavior to realize the benefits of immunity, much as society tolerates but attempts to minimize destructive incentives that arise from other beneficial programs (e.g., fire insurance)."
If "oversight of immunity testing and use of test results does not improve, certification programs will be vulnerable to much more serious legal and ethical objection," Hall and Studdert state.
However, if regulators are able to hold these tests to a certain level of rigor, the incorporation of immunity certification might be able to reduce testing abuse, they argue.
The professors state that "if these issues are resolved and policies are administered fairly, the ethical and legal concerns raised may be overstated."
Hall told The College Fix: "The certification could apply in less stringent situations than total 'lock-down'… when everyone is gaining more freedoms but some people are freed up more than others."
MORE: University censors dean who used term 'Wuhan virus'
IMAGE: Rossi Agung / Shutterstock
Like The College Fix on Facebook / Follow us on Twitter