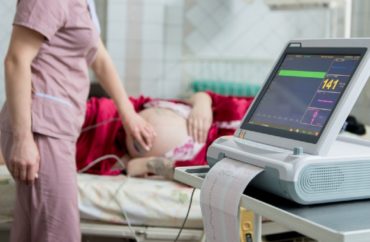 A number of medically-reviewed pregnancy websites establish the existence of heartbeats
The passage and implementation of Texas' pro-life heartbeat bill has led publications such as National Public Radio to quote medical professors who say that fetal heartbeats do not exist at six weeks. This despite a history of other medical professors and doctors agreeing that preborn babies can have heartbeats as young as four weeks after conception.
Senate Bill 8 prohibits abortions "after detection of an unborn child's heartbeat." Signed in March, the legislation will go in effect after abortion supporters failed to get federal courts, including the Supreme Court, to block the law. It does not use the metric of hearing a heartbeat, but detecting it.
Medical professors quoted by NPR have said that fetal heartbeats do not exist at six weeks, despite evidence to the contrary.
"What we're really detecting is a grouping of cells that are initiating some electrical activity," Professor Jennifer Kerns of the University of California San Francisco said. "In no way is this detecting a functional cardiovascular system or a functional heart," Kerns told NPR. She is affiliated with the Bixby Center at UCSF, which advocates for abortion.
Emory University medical school Professor Nisha Verma attributed the sounds of a fetal heartbeat to the ultrasound machine. Verma is also an abortionist.
"At six weeks of gestation, those [cardiac] valves don't exist," Verma said. "The flickering that we're seeing on the ultrasound that early in the development of the pregnancy is actually electrical activity, and the sound that you 'hear' is actually manufactured by the ultrasound machine."
The legislation, which NPR quotes from, said that the "detection" of a heartbeat is the line for when an abortion can be committed.
MORE: Yale public health professor spreads fake news about Ron DeSantis
And a review of medical research and pregnancy websites establish the idea that preborn babies have heartbeats at six weeks gestation or four weeks conception. Gestation starts from the last menstrual period, which means the pregnancy is considered to have started two weeks prior to the uniting of the sperm and egg.
"A fetal heartbeat may first be detected by a vaginal ultrasound as early as 5 1/2 to 6 weeks after gestation," Healthline said. The medical website said that OB/GYN Valinda Nwadike reviewed and approved the article.
"By week 5, a baby's heart tube begins to beat spontaneously, though you quite can't hear it yet," the What to Expect website said. "If you get a first-trimester ultrasound (sometime between weeks 6 and 9 of pregnancy), your practitioner or a trained sonographer will get a visual on your baby to check that his heart is beating."
Furthermore, while a woman cannot hear the heartbeat until 10 weeks, "[b]y 6 weeks, your baby's heart is beating 110 times a minute."
This description satisfied James Greenberg, the medical reviewer who signed off on the article. Greenberg has worked as an associate professor at Harvard Medical School, an OB/GYN and the former vice-chair of the obstetrics and gynecology department at Brigham Women's Hospital in Boston.
Mayo Clinic, Johns Hopkins' agree on fetal heartbeat
"The heart and other organs also are starting to form and the heart begins to beat," at four weeks of conception, the Mayo Clinic said.
A Johns Hopkins' textbook entry said "the fetal heart begins beating as early as the 5th week after the [last menstrual period]." While heartbeat dopplers used at 12 to 14 weeks does not allow you to hear the beat itself, ultrasounds allow doctors to confirm a heartbeat.
"An ultrasound machine usually will enable you to see a heartbeat by 5 to 6 weeks gestation if equipped with a vaginal probe," the medical school's website entry says. "Abdominal ultrasound will usually see the heartbeat by the 7th-8th week of pregnancy."
Media spreads fake news
This has not stopped other publications from reporting that heartbeat bills are not based on science.
"A six-week-old fetus doesn't have a cardiovascular system, the sound of the thumping is from the machine," Business Insider Australia reported, quoting from the NPR article.
The Texas Tribune also quoted Verma and said "heartbeat bill" is a "misleading name for Texas' near-total abortion ban."
One OB/GYN told the Tribune that the debate boils down to semantics, and that the term fetal heartbeat is understood to mean the beginning of cardiac activity by both pro-life and pro-abortion activists.
"Everybody knows embryos don't possess a fully developed heart, but that is what we're generally calling it, a 'detectable fetal heartbeat," John Thoppil said.
MORE: Planned Parenthood board member will lead health equity center
IMAGE: Helen Sushitkaya/Shutterstock.com
Like The College Fix on Facebook / Follow us on Twitter