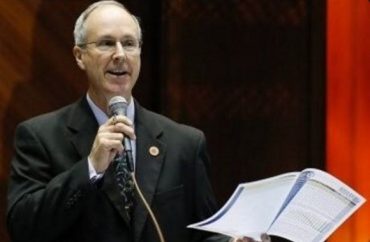 "Arizona lawmaker proposes more ethnic-studies limits"
"Arizona Lawmaker's Bill Would BAN Taxpayer Funding Of Ridiculous Social Justice Classes"
"Bills Would Ban Classes That Violate Civil Rights Law"
"Bill proposes cutting Arizona universities' funding if they offer DACA discount"
"Arizona lawmaker targets lawbreaking universities, colleges"
These are just a handful of recent headlines reporting on the efforts of Rep. Bob Thorpe, a Republican state lawmaker in Arizona who has launched something of a no-holds-barred attack on leftist policies at universities in his home state.
He has drafted legislation that would, as the Daily Caller puts it, forbid taxpayer funding of social justice classes, if approved:
The law, if eventually enacted, would also prevent government funding for coursework which "advocates solidarity or isolation based upon ethnic, racial, gender or social class instead of treating individuals as unique." Also verboten would be any taxpayer-funded course which "negatively targets specific nationalities or countries, such as but not limited to Israel." …

Thorpe has crafted the bill, he says, because he wants to ensure that Arizona taxpayers aren't funding courses which promulgate any sort of discrimination or racial isolation.

"It seems like racially insensitive agendas are occurring in higher education," Thorpe told The Daily Caller. "The trend is very troubling."
The way Tucson.com explains it, Thorpe is "proposing new limits on what and how schools, colleges and universities can teach," because he believes "students are being taught hatred at public expenses," adding:
Rep. Bob Thorpe said a 2010 law that targeted "ethnic studies" courses at some public schools, including those at Tucson Unified School District, does not go far enough with its prohibition against teaching anything that promotes resentment toward another race. He wants to expand that list to include gender, religion, political affiliation and social class. …

Thorpe said Thursday his bill is aimed specifically at things like a "privilege walk" exercise sponsored by the University of Arizona and a course entitled "Whiteness and Race Theory" at Arizona State University. …

"I'm not saying in my bill these classes cannot occur," [Thorpe said]. "What I'm saying is taxpayers should not have to pay for them."

His legislation, however, has no such distinction: State aid would be at risk whether or not public dollars are involved.
Explaining his motivation on the James T. Harris show, Thorpe said: "I'm a fan of Dr. Martin Luther King. I think that anyone would agree that Dr. King wanted strong, resilient young people to develop into what God wants them to develop into. Be strong, confident, and capable. Now the whole notion that we are dividing instead of uniting just really leaves a terrible taste in my mouth and so I was driven."
There's currently a petition in support of Thorpe submitting the bill he's drafted for consideration as soon as possible. Nearly 200 people have signed it so far.
"Please submit the bill to ban taxpayer funding of Social Justice classes for consideration in this legislative session," the petition states. "We the people are sick and tired of paying for our own children to be indoctrinated against our beliefs and values."
Not stopping there, Thorpe is also pushing legislation that would "withhold state aid [to universities] because they offer lower in-state tuition to 'Dreamers,'" Tuscon.com reports:
The proposal by the Flagstaff Republican empowers the attorney general to determine, on his or her own, that an educational institution that receives state funds "is in violation of state law or the constitution of Arizona." If the school doesn't back down in 60 days, it loses 10 percent of its state funding.
Thorpe told the Associated Press his effort seeks to upend President Barack Obama's 2012 Deferred Action for Childhood Arrivals, or DACA.
"We're not talking about a law that was enacted by Congress and signed by the president. They're executive orders," Thorpe said. "My concern is that we have a voter-protected law on the books that says you have (to be authorized to be in the U.S.) to get in-state tuition."
Thorpe describes himself on Twitter as a "Christian Constitutional Legislator: Liberty, Pro-Life, Limited Govmt, States Rights, Pro-Growth, 2nd Amend, Low Taxes, [strong] borders …"
MORE: Embattled conservative professor refuses to be silenced: 'They did not kill the lion'
Like The College Fix on Facebook / Follow us on Twitter
IMAGE: Twitter screenshot