Students had accused art professor of repeated microaggressions, showing students controversial cartoons
A tenured University of Michigan associate professor in the school of art and design survived an onslaught of allegations that she engaged in repeated microaggressions against her students, forcing them to copy "racist" and "misogynist" cartoons without providing trigger warnings or context.
Phoebe Gloeckner (pictured), a professor specializing in comics, had faced complaints from students distraught that her curriculum involves provocative cartoons from artists such as R. Crumb, a seminal figure in the underground comics movement.
Some students had filed complaints with the school in fall of 2020 and winter of 2021 that Crumb's comics are "misogynistic" and "racially insensitive," and Gloeckner was forcing them to study the images, according to a June 25 investigative article in The Michigan Daily.
Although the investigation is closed and Gloeckner was fully cleared and still teaches, the article reignited debate about her curriculum and teaching methods. She stands by them.
"Comics are, by nature, a provocative art form," Gloeckner told The College Fix in an emailed statement. "Some comics reflect fantasy worlds that reveal our desires, dreams and nightmares. Other comics offer a grotesque reflection of humanity that we would rather not see."
Gloeckner gained national fame from her 2002 graphic novel "The Diary of a Teenage Girl," which was made into a movie in 2015. She has taught at U of M since 2004.
"Students expressed their discomfort towards being assigned homework on an artist that is known for drawing racist cartoons," one complaint read, referring to Crumb. "Students expressed their discomfort towards the depiction of the female body in the illustration, as they felt it was misogynistic and uncomfortable to draw."
After the students complained, Gloeckner required them to watch a documentary on Crumb, "implying that our discomfort towards misogyny and racism is something to be fixed."
"I don't care if she likes Robert Crumb," one student told the paper. "It was more the fact that (she) was like, 'You guys must like it, and if you don't like it, there's going to be consequences.' And there were consequences."
Brad Smith, associate dean of academic programs for the School of Art & Design, told The Daily that the complaints against Gloeckner are effectively a closed matter.
"The administration of the Stamps School of Art & Design responded to the concerns shared by students in 2020 and 2021 through established processes regarding such issues," Smith told the paper.
"As this is a personnel matter, university policy limits the information we are able to share."
The students had alleged that when they told Gloeckner content presented in class was racist or misogynistic, Gloeckner would answer with "but is it though?"
They alleged this answer is "constantly invalidating the experience of marginalized groups." They argued she should not "embed racism and misogyny in her curriculum for the class" because it "results in curriculum based trauma."
Gloeckner told The Fix she stands behind her decisions.
"My focus as an educator is to introduce students to making comics while offering a survey of comics history and contemporary comics practice," Gloeckner said.
"I encourage students to express their resistance to content constructively, in a manner that invites conversation. It is my job to teach comics and the challenging topics they confront us with while respecting each and every one of my students as individuals. That's what I do — everyday."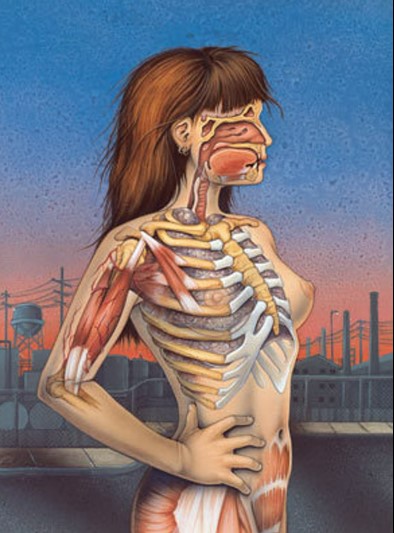 Gloeckner's own art (pictured) reflects her taste for provocation. The samples of art provided on her school website represent an enthusiasm for an anatomical drawing, with sexual themes included.
"My own work as a graphic novelist has often led to uncomfortable conversations and the impulse, for some, to look away," Gloeckner told The Fix. "I have dealt with themes of sexuality, emotional and physical violence, and the thin membrane that encloses each of us as individuals, and yet, is so permeable that we are all inextricably connected, interdependent; wounded or nourished by the cruelness or generosity of the societies that produced us."
In addition to her challenging curriculum, the students had also charged Gloeckner with microaggressive behavior in class.
"Towards the end of class, Phoebe asked us all to smile for her, even though it was evident that we were all tired and upset by her microaggressions throughout the class," the complaint reads. "I would also call this an act of aggression towards us. We do not owe her any performative emotions."
The students further alleged that Gloeckner failed to pronounce the last name of a Latina student, and later confused two Latina students for one another, saying "I just thought you were the same person because you are both Mexican."
Three former students also spoke about their experience with Gloeckner with The Michigan Daily. One anonymous student who goes by "they/them" pronouns told The Daily that Gloeckner had continually misgendered them in class.
"I encourage my students to bravely and honestly confront whatever topics, themes, or questions they choose to explore in their own work," Gloeckner told The Fix.
"On a personal note, I absolutely support every one of my students, regardless of the ways they might define themselves, including pronouns, to be the individuals they are as they work to find and develop their creative voice."
Another student had alleged that after a tarot card reading at Gloeckner's private cottage, Gloeckner whispered "You are a dog" in their ear, then kissed the student on the face.
Gloeckner called the allegation "simply outrageous, and absolutely untrue."
"(The complaints) were already examined by U-M, and the university decided to close the matter over a year and half ago," Gloeckner told The College Fix.
MORE: Students demanded professor who refused to use trigger warnings be fired. So far, he's still teaching.
Like The College Fix on Facebook / Follow us on Twitter