Student government gender relations director at University of Notre Dame draws scrutiny
A University of Notre Dame student who has voiced negative statements about men and is openly opposed to Catholic sexual ethics was recently confirmed as director of the student government's Department of Gender Relations.
The department "works to foster a healthy environment of communication and dialogue between individuals of different genders on campus," according to its website.
The student who recently took the helm is Anne Jarrett. During the student senate confirmation hearing April 15, sophomore senator DC Morris raised concerns over Jarrett's ability to work effectively with men as gender relations director given some of her past comments on social media.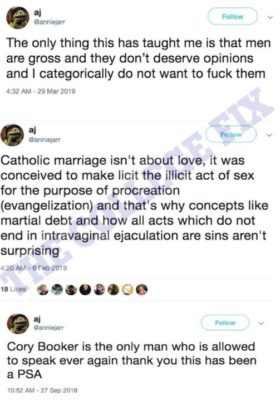 Jarrett, a junior, tweeted March 29: "The only thing this has taught me is that men are gross and they don't deserve opinions and I categorically do not want to f*** them." This was in response to harassment she received on a post of herself wearing bike shorts to protest an op-ed that called leggings immodest.
She said in other tweets regarding men: "I have a lot of sex with men for someone who condemns so vehemently giving men opportunities to disappoint me," and "Cory Booker is the only man who is allowed to speak ever again thank you this has been a PSA."
In yet another example of statements that have caused some to worry about her ability to be the leader of positive relationships between genders at Notre Dame, she said in an Instagram post last year: "You can trust [women about their bodies]. If we wanted your ignorant, irrelevant opinions, we'd ask."
In defending herself against Morris' concerns, Jarrett said at the meeting that "as director of Gender Relations, I would want to make sure that we have discussions about how to relate to other genders on campus in ways that don't make people feel alienated or hurt or sad or scared," the Observer reported.
Jarrett also stated that her tweet in which she said "men don't deserve opinions" resulted from feelings of isolation and fear, and that the negative comments were a difficult thing for her to go through as a "female-presenting person."
During the meeting, freshman senator Samuel Delmer also expressed concerns that Jarrett's condemnation of Catholic sexual ethics would affect her policies as director of Gender Relations at Notre Dame, where at least 80 percent of the students are Catholic.
Jarrett had said in a now deleted tweet: "I see the [Catholic] faith as inherently against female empowerment and sexual freedom."
She also tweeted, "Catholic marriage isn't about love, it was conceived to make licit the illicit act of sex for the purpose of procreation (evangelization)."
Delmer said, "The fact that [Jarrett] sees the faith as inherently against female empowerment—not just the faith as it is now—shows that while she advances female empowerment at this University, [Jarrett] will…see part of that as counteracting the Catholic faith," the Observer reported.
In her defense, Jarrett stated "I'm not here to teach or promote my own agenda."
Meanwhile, in her first recent email to members of the Gender Relations department, Jarrett laid out the agenda for her tenure.
Addressing her department members as "folx," (a gender-neutral term which includes transgender and non-binary people), she laid out some of the initiatives she plans to pursue in the next school year, including: "sexual assault prevention," "trans* student rights," "PRIDE week," "pronoun emphasis," "discussions about sex/gender/sexuality," "menstrual product availability," and "PARIETALS 'reform' (REMOVAL)."
Parietals is the policy at Notre Dame that people of the opposite sex are not allowed to be in the bedrooms of the university's single sex dorms from midnight to 9 a.m. on weeknights and 2 a.m. to 9 a.m. on the weekends. In an article for the Huffington Post, Jarrett explained that she opposes this policy because "it seems to enforce heteronormativity and ignore that LGBTQ+ students exist here."
In her call for the rights of transgender students, Jarrett is perhaps referring to allowing transgender students to live in the dorm that corresponds to their gender identity, as she has criticized the single-sex dorms for making "being a transgender student on campus impossible." Jarrett expressed her opinions on issues of transgenderism when she stated in a Facebook post: "I can speak for hours (or recommend reading!) on how gender and gender identity: ≠ sex, cannot be determined by genitalia, are on a spectrum and so on."
Jarrett is one of the founding members of Irish 4 Reproductive Health (I4RH), a group which describes themselves as "sex-positive feminists" who work to promote "reproductive justice" at Notre Dame. The group is in the process of suing Notre Dame for not providing abortifacients in their healthcare policy. I4RH delivers condoms, internal condoms, and lubricant to any students on the Notre Dame campus who request them via their Snapchat.
Student body President Elizabeth Boyle, who was director of the Department of Gender Relations prior to her election as president, defended her nomination of Jarrett at her senate confirmation, saying: "Bringing diversity and diversity of thought is exceptionally important."
The press secretary of student government declined to comment to The College Fix and would not respond if Jarrett would treat all men and women with equal value.
Boyle and Jarrett also did not respond to comment. After The Fix contacted Jarrett seeking a comment for this article, Jarrett made her Twitter account private.
MORE: This professor asked 'Why Can't We Hate Men?' 
IMAGE: Shutterstock
Like The College Fix on Facebook / Follow us on Twitter