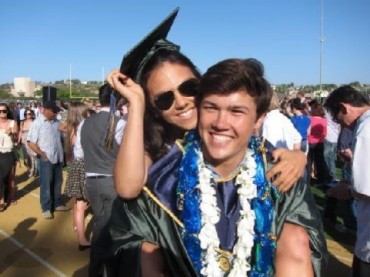 An 18-year-old University of California-Santa Barbara student athlete remains hospitalized in San Diego this week after his feet were amputated following a meningitis outbreak at the university, just one of many meningitis cases plaguing campuses nationwide.
According to the young man's parents, Aaron Loy has been in discomfort and pain following another surgery he underwent last week, UT-San Diego reports. Loy is a freshmen lacrosse player at the Southern California campus, and one of four students sickened in the meningitis outbreak there.
Loy and UCSB are not alone, as universities across the country grapple with outbreaks of meningitis, viral or bacterial infections that if left untreated can be fatal.
At Princeton University, a meningitis outbreak that hit the Ivy League campus last spring that hospitalized four students continues to cause problems at the campus, with a total of seven students and one outside visitor affected since March, according to The Daily Princetonian campus newspaper.
Earlier this month, a staff member at the University of California-Riverside was hospitalized with the infection, as was a student at California Polytechnic University at San Luis Obipso, according to various news reports. Campus officials and medical personnel continue to work to determine the specific causes of these two meningitis infections, but it appears the case at San Luis Obipso was viral, the Los Angeles Times reports.
What's more, last spring a University of Wisconsin – Madison student and a Northern Arizona University student were hospitalized with meningitis.
Bacterial meningitis – the cause of both outbreaks at Princeton and UCSB – can be spread through kissing and coughing. Side effects include fever, headache, stiff neck, nausea and vomiting. Infections are often misdiagnosed because its early symptoms are much like those of the flu, according to the National Meningitis Association.
Princeton University gave vaccines to thousands of students last week in response to its eight confirmed cases of meningitis. However, the vaccine is not the standard one used in the United States, rather a new version for the specific Type-B strain present at Princeton and UCSB.
Princeton received special permission from federal health authorities to use this vaccine because it has not yet been approved in the United States, although it is used in other countries.
At UCSB, university officials say more than 1,000 students have been treated with antibiotics as a preventative measure, according to U-T San Diego, which added campus officials are working with the Centers for Disease Control and Prevention to decide whether to provide that vaccine.
Anxious UCSB parents have clamored for their children to have access.
"I have to wonder what in the world they are waiting for in getting this vaccine available to the student body," Nancy Gorman, 47, a Murphys, Calif., teacher's aide whose son Sean is a UCSB freshman, told NBC News. "I really don't care to be playing Russian roulette with my child's well-being."
NBC News reports UCSB parents have flooded school and public health officials with emails and calls, urging them to offer the vaccine to halt the outbreak.
"I feel powerless," Gorman said. "At least he's finishing finals this week and then he comes home."
In response to the cases as UCSB, Student Health Director Mary Ferris told The Daily Nexus, UCSB's independent student-run newspaper, "all close contacts of the meningitis cases are being offered treatment, and public health has made no recommendation to cancel any activities or scheduled events on campus."
According to the Mayo Clinic, the best ways to try and avoid getting bacterial meningitis include: washing hands often and vigorously; practice good hygiene – don't share drinks, foods, straws, eating utensils, lip balms or toothbrushes with anyone else; and cover your mouth when coughing and sneezing.
Fix contributor Andrew Desiderio is a student at The George Washington University.
IMAGE: Aaron Loy Caring Bridge
Like The College Fix on Facebook / Follow us on Twitter