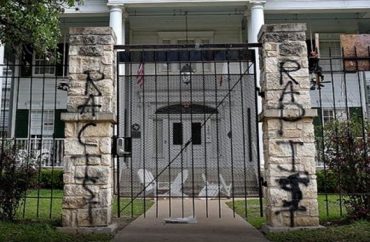 'We are all scared …'
Various anonymous messages that have popped up after a stabbing spree on campus that left one student dead indicate some members of the University of Texas Greek Life community may feel unsafe and targeted at the school.
The murder, in which a knife-wielding black student, 21-year-old Kendrix White, stabbed several white peers before being arrested by police, came on the heels of repeated vandalism targeting Greek Life houses near the Austin campus, such as graffiti stating "racist rapists."
"Vandals of UT," the anonymous student group claiming responsibility, say their actions are a response to white supremacy and elitism and hope the graffiti serves as a warning to the university that underprivileged students are unafraid to fight back.
"We were responding to the everyday crisis that is rape culture, white supremacy, and elitism," the group said in an April 21 statement posted at itsgoingdown.org.
"It is no accident that so many fraternities take the style of plantation homes—the institutions of Greek life are themselves colonial, bourgeois, patriarchal structures, founded to preserve the reproduction of elite classes. Our attacks come in response to the everyday fear and feeling of danger that these institutions and their members produce for students of color, women, queer and trans students, and other marginalized folks. Catcalls, racial slurs, rape jokes, and more are the daily realities which go unspoken and uninvestigated by either the police or the University," the statement continued.
Campus leaders denounced the campaign against Greek Life.
"At The University of Texas of Austin, we will not tolerate vandalism and threats targeting our students and are actively investigating the recent incidents near campus," UT president Gregory Fenves stated April 19. "Many students understandably feel concerned and vulnerable. I want them to know we are committed to making UT Austin a safe environment for all of our students."
The May 1 assault, which took the life of student Harrison Brown and injured three others, is not part of "a vendetta against any one particular group," according to campus police. The suspect's mental competency is currently the fodder for attorneys as the case makes its way through the court system. White has told authorities he does not remember the incident.
"None of the victims of the attack were wearing any clothing that would indicate they were members of fraternities, nor did there appear to be any motive for the attack beyond White's possible mental health problems, UT Police Chief David Carter has said," the Austin American Statesman reports.
Even if the attack was random, due more to mental illness, there is apparently some sentiment that Greek life was somehow targeted. Brown was friends with many fraternity members. Another student, Stuart Bayliss, a member of Lambda Chi Alpha, was badly injured in the stabbing, the Statesman reports. The other two victims were unaffiliated with Greek Life.
Even though none of the victims had on clothes indicating they were members of fraternities, some apparently may perceive this incident as part of a larger threat, one correlated to the hateful graffiti incidents that unfolded targeting Greek Life.
A day after the stabbings, a new Facebook page called "UT Students" was created, and an anonymous post allegedly signed by some in the Greek community stated in part: "Here is the side of the story that you are too afraid to mention, the side of the story that we are all talking about while you pretend that it does not exist. We, however, have nothing to lose in writing this because, unlike you, we would rather make an attempt to protect our fellow Longhorns than worry about protecting our own reputation."
The statement went on to reference the "Vandals of UT," the anonymous student group responsible for spraying graffiti on several fraternity houses, writing phrases such as "rapist" and "racist" on buildings throughout the Greek neighborhood.
The statement continued: "How long will it take for you to realize that we are all scared? How long will it take you to realize that we do not feel safe? How long will it take you to address our concerns head on without worrying about protecting your reputation? How long will it take you to sweep this under the rug?"
President Fenves has issued multiple statements on the university's website responding to concerns. The official UT Austin Facebook page also responded to the students' cry for help on Facebook: "The investigation of Monday's campus attack … found no evidence that the attacker targeted specific groups, such as fraternities, or was part of any larger conspiracy. Law enforcement has also found that the assailant has a history of mental health problems."
The president also mentioned that the campus police department will be training 21 new officers in response to elevated concerns for safety.
Yet it appears the concern is not totally alleviated. "FRATS BASH BACK" was written on flyers that were dated May 7 and found throughout campus, The Tab reports. The flyers included a picture of Brown, saying they were posted "in memory" of him.
"Whereas the University administration chooses to ignore, belittle, undervalue, and disrespect student safety through its actions, words, and deeds, we WILL act to protect, defend, and foster a UT Austin free of anti-Fraternity propaganda, agitators, and the malicious anti-Free Speech policies the university attempts to uphold" the flyers stated.
The author or authors also noted on the flyer their intention to report all illegal immigrants being employed to the proper authorities. The flyer links to two websites, one of which is Sisyphean News, an organization dedicated to exposing political corruption and Antifa violence.
An official from the InterFraternity Council told the Statesman that they were not responsible for the flyers.
"The flyers were not generated by the Interfraternity Council or — to our knowledge — anyone in the fraternity and sorority community," said Peter Stanley, vice president of communications for UT's Interfraternity Council. "We deeply respect Harrison's memory and have sought to provide support for his family; we would not use his memory to spark debate."
And Fenves "very strongly condemns the violence and recently met with the Inter Fraternity Council," campus spokesman J.B. Bird told The College Fix in a phone interview.
"Any incident that threatens our students is of grave concern to the university. Our president strongly condemned the vandalism of off-campus fraternities when it first occurred. UT police worked with Austin police to add extra patrols in the area and review video footage as part of a criminal investigation," Bird stated in an email to The College Fix. "Since then, university leaders and staff from the Dean of Students have been in close contact with representatives of the Interfraternity Council to continue to hear and respond to their concerns."
The council stated that they did not find a correlation between the graffiti and stabbing incidents.
"The police have firmly stated that the tragedy that occurred on our campus was not connected to fraternities and, to our knowledge, no student who was attacked was wearing clothing that indicated membership in a Greek organization," Council vice president Peter Stanley stated in an email to The Fix.
A GoFundMe campaign has raised over $175K in support of Brown, described by the Statesman as: "A runner and an actor. A teenager who played at least three instruments, worked a job and came to the University of Texas with enough class credits to start as a sophomore. A man so admired, he not only won 2016 class favorite his senior year, but the entire high school named him the most popular kid on campus."
MORE: UChicago fraternity has video of vandal who spraypainted 'RACISM' on its house
MORE: FIJI refuses to change its 'racist' nickname
Like The College Fix on Facebook / Follow us on Twitter
Like The College Fix on Facebook / Follow us on Twitter