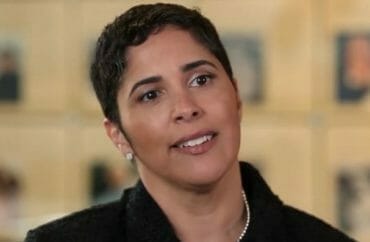 UPDATED
Five months ago, Shirley Collado was tapped as the new president of Ithaca College. Today, she's making headlines for a different reason. The New York Daily News reports:
The president of Ithaca College in upstate pleaded no contest to sexually abusing a patient when she worked at a psychiatric hospital nearly two decades ago.

Shirley M. Collado, who worked at The Center at the Psychiatric institute of Washington in D.C., was accused of having a five-month sexual relationship with a female patient who was undergoing therapy for post-traumatic stress in 2000, The Ithacan reported.

While Collado was convicted of one count of misdemeanor sexual abuse in August 2001 after pleading no contest, she has maintained her innocence, saying she didn't have the legal, financial and emotional resources to fight the case.
The conviction may be nearly two decades old, but news of it comes at a time when old sexual assault claims can derail careers.
Collado was tapped to replace Tom Rochon, who was essentially forced out as president of Ithaca College by social progressive protesters who claimed he was racist even though he agreed to all their demands to improve the campus environment for students of color.
Collado told The Ithacan she is innocent.
"I didn't have the legal resources; I didn't have the financial resources to, and I didn't have the emotional wherewithal to really take this on the way I would have preferred," Collado told The Ithacan. "So I took a different route. And like many people in this country, young people in this country, people of color, people who don't have networks, that was me. This happens all the time, where you make this really difficult choice, even if it goes completely against the truth of who you are."
Two Ithaca College Board of Trustees told The Ithacan they were aware of the conviction during the hiring process and the issue was thoroughly vetted.
"My own perspective about it is this is something of almost 20 years ago that was adjudicated in court and has been settled," Trustee Tom Grape said. "And I think for us to sort of go back and ask people, well, something that happened 20 years ago when there's since been a 20-year history of behavior that is spotless, to me, the matter was settled with the court action 20 years ago. And we've done very thorough reference-checking for her professional activity since, and we did talk to some folks from that era, and we're satisfied."
Many comments under The Ithacan's post of the article on Facebook slam the student newspaper for reporting on the conviction.
"Disgusted with this article," one commenter said. "Once again the Ithacan writes a misleading slander piece and calls it journalism. All this is is a woman of color with poor legal representation in a case already vetted by the college. This is a disservice to actual survivors of sexual misconduct, and I am utterly disappointed, albeit not surprised, by this article."
"This headline is really proof that people hate to see women of color succeed," said another.
Chimed in a third: "Your desperation to discredit our president is so reminiscent of the birther movement against Barack Obama it's disgusting. This is a prime example of bad, scummy journalism."
The Ithaca College Republicans, in response to the controversy, have released a statement in support of Collado's tenure.
"While the disclosures did give us pause, it is important to recognize that in the time since the events in question, nearly 18 years, President Collado has proven herself to be a public intellectual who values all sides of an argument—even when those opinions are unfavorable on her own campus. While conservative, libertarian and Republican principles have historically been blocked, vilified and censored on college campuses, we are lucky to attend a college where the president stands firmly behind our right to free expression without facing viewpoint discrimination. In the time we have worked with President Collado, we have found her to be a valuable mentor, colleague, and friend," the statement read in part.
According to her bio, Collado is "an expert in organizational behavior and development [and] has held executive leadership roles in higher education for more than 16 years at private and public institutions, as well as in the nonprofit sector. Trained as a clinical psychologist at Duke University, Collado specializes in the intersection of race, ethnicity, and gender in trauma experiences and treatment."
Editor's note: The college spokesman released a statement to The College Fix after publication. It's reproduced below.
Both Ithaca College President Shirley M. Collado and the Ithaca College Board of Trustees fully addressed this topic in messages they sent to the entire campus community on Tuesday, Jan. 16. You can read the message from President Collado here and the message from the board here.

As noted in both statements, President Collado had actually discussed this issue publicly nearly a year ago, in an interview conducted shortly after her appointment as president was announced. You can read the interview, published on March 1, 2017, here.

President Collado looks forward to continuing the important work she is doing to advance the interests of the students, faculty, and staff of Ithaca College.
This article has also been updated to add a statement from the Ithaca College Republicans.
MORE: Less than 3 percent of Ithaca College professors identify as Republicans
IMAGE: YouTube screenshot
Like The College Fix on Facebook / Follow us on Twitter