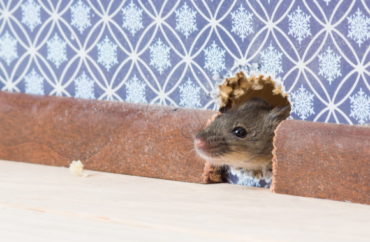 Residents of Tufts University's Beacon Street dorm for first-year students have found themselves living with numerous roommates that could best be described as mischievous and nightmarish even by the standards of those one might find in a typical freshman dorm.
According to multiple students and an RA that spoke with Tufts' student newspaper, The Tufts Daily, these roommates make noise all through the night, invite friends and family to stay indefinitely, eat people's food without asking, and leave droppings on desks and clothing.
Yes, the 1047 Beacon St. dorm, usually reserved for students in the School of the Museum of Fine Arts, was infested with mice — a problem that has gotten progressively worse since early in the fall 2022 semester.
As detailed in an April 6 article in The Tufts Daily, Alyson Costa and an unnamed RA claimed they first noticed and reported the problem in October.
Traps were set in the RA's room, while Costa's claim seemed to go ignored, they told the newspaper, adding that by November, mice were being spotted more frequently by more residents and sightings occurred in bedrooms and common areas.
Hopes the problem would be addressed over winter break were dashed, however, and it actually seemed to have gotten worse when everyone returned in January, they said.
Hence the RAs of the 1047 Beacon St. dorm held a meeting at the start of the spring semester with residents about proper food storage and trash disposal, the Daily reported.
Students such as Costa continued to press the university to address the mouse infestation, but no one seemed sure who, if anyone, was responsible for addressing the problem.
"Costa said she called Student Services, who directed her to speak with her RAs; when Costa asked to speak with someone higher up, she said that Student Services advised her to contact the ORLL [the Office of Residential Life and Learning]," the Daily reported.
"Costa said ORLL put her on hold when she informed them that she was calling about mice in 1047 Beacon St. before telling her they could not comment on the situation. Costa said ORLL told her to get back in touch with Student Services."
"… [S]tudents were confused about whom to call for help, attributing this to the fact that the building is not owned by Tufts, but by an external LLC."
By February, exterminators had set more traps in the building, although Costa told the Daily that an exterminator she spoke with at the dorm said "he did not think what he was going to do was going to fix this problem."
There was also confusion about what to do if a mouse was caught in a trap, as well as who was responsible for disposing of such captured rodents whether live, dead, or somewhere in between.
On one occasion, according to The Tufts Daily, students contacted multiple offices about a live mouse squeaking in a sticky trap before deciding to put it in a bag with one student offering to stomp on it to put it out of its misery.
On another occasion, the unnamed RA contacted a campus facilities office and their supervisor, the latter of whom contacted the building manager, who eventually sent someone to deal with the mouse.
The College Fix reached out via email to Tufts' Student Services Center, the Office of Residential Life and Learning, and Executive Director of Media Relations, Patrick Collins, inquiring whether anyone disputes the account presented in The Tufts Daily.
The Fix also asked for clarification regarding which office students are supposed to contact regarding rodent infestations in dorms and who is responsible for addressing them.
Collins replied with an email statement that read: "The Office of Residential Life and Learning (ORLL) takes concerns about mice and other facilities issues very seriously and shares information about such concerns as quickly as possible with the appropriate resources to ensure a proper response."
"ORLL has been working with the owners of 1047 Beacon Street, which is located in the Fenway section of Boston, to address the issue," Collins' statement continued, as the dorm is not owned by the university.
"Exterminators have installed traps and bait boxes in common areas and rooms, and students have been reminded to store food and secure garbage, which is removed twice daily during the week," he added.
"ORLL has been in consistent communication with building ownership, facilities staff, and students with updates on the specific measures they are taking and overall progress. Students are encouraged to work with the live-in Residence Life Coordinator to report issues and concerns."
According to The Tufts Daily, the university had also temporarily offered to house students in another dorm.
Some students, such as Costa, however, have claimed they shouldn't have to move because Tufts and building management can't solve a mouse problem.
To put pressure on university administration, The Tufts Daily reported Costa has taken it upon herself to put posters up around campus that bring attention to the issue.
MORE: PETA demands UGA replace its live dog mascot, calls breed inhumane
MAIN IMAGE: Irina K. /Shuttestock
INSIDE IMAGE: Tufts Daily
Like The College Fix on Facebook / Follow us on Twitter