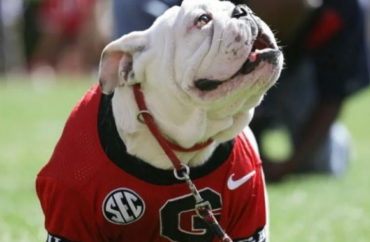 But fans say the dog's loved and lives a great life
People for the Ethical Treatment of Animals has launched a major campaign against the University of Georgia for its use of live English bulldog for its mascot.
A Feb. 28 news release from the organization labeled "Bulldog bestiality?" cites breeding practices that include male dogs being "sexually stimulated by invasive human hands."
In a statement to The College Fix, PETA said that "UGA's mascot program is driving up the demand for dogs who can barely breathe or breed naturally, and people who are defending it are unaware of those two facts."
"PETA is calling on everyone who cares about Uga to … learn about this manipulated breed and then urge the university to stop sentencing more dogs to groping by human hands and short lives of gasping for air," a group spokesperson said via email.
PETA's targeting of the school's mascot, named Uga, began after the University of Georgia's second consecutive NCAA football championship.
"As the back-to-back national champion, can't UGA find it in its heart to honestly examine the impact of its promotion of deformed dogs and call time on its outdated, live-animal mascot program," PETA Executive Vice President Tracy Reiman said in a news release in mid-January.
A letter to the university from PETA that month called for Uga to be replaced with a "willing human mascot."
PETA argues English Bulldogs are riddled with severe health conditions as a result of inbreeding and poor general breeding practices, including cherry eye, protruding lower jaw, and brachycephalic obstructive airway syndrome.
Despite the inherent issues of the breed, those speaking out of UGA have insisted that Uga lives a very good life.
Uga is locked in back in Athens 🤣 🐶 pic.twitter.com/ksm0yUnV6t

— College GameDay (@CollegeGameDay) January 10, 2023
UGA Athletic Director Josh Brooks said "We are proud of our beloved mascot and grateful for the excellent care provided by Uga's devoted owners, the Seiler family." He made the comments in a statement to Fox News Digital.
Two former players for the team, Tavarres King and Knowshon Moreno, also backed up the university, with King telling TMZ "I don't think folks know how good of a life Uga lives. That dog's loved, bro. Chill out, PETA."
"You'd be getting rid of a lot of tradition. I feel like those pets live the best lives. … Uga live the life. Even on away games, you get on the plane. Uga's the first seat on the plane. … Uga's very well treated," added Moreno to TMZ.
The University of Georgia did not respond to a request for comment from The College Fix.
MORE: U. Nebraska revises mascot to avoid perception of 'white supremacy'
IMAGE: Instagram screenshot
Like The College Fix on Facebook / Follow us on Twitter