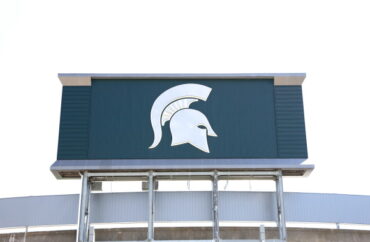 'Is anyone seriously triggered by MSU's Spartan helmet?'
One way the Michigan State University College of Law can show a commitment to diversity, equity and inclusion is by removing the image of its Spartan mascot helmet from promotional materials, according to school leaders.
A memo between the American Bar Association and leaders of the law school states that is one way the admissions division "has demonstrated a commitment to DEI."
The memo states in part: "More trauma-informed intentionality with respect to marketing materials and admissions events: removing the MSU helmet and providing sufficient physical space at events to be mindful of potential triggers for survivors of sexual assault."
It was part of a much larger report regarding an ABA accreditation process the college of law went through in 2022 and finalized earlier this year.
The report was recently obtained by University of San Diego law Professor Gail Heriot as part of a public records act request she is working on.
"I am not making this up," Heriot wrote Sept. 18 on Instapundit. "I am reviewing the Freedom of Information Act response I recently received from Michigan State University College of Law. One of the documents briefly describes the ways an assistant dean modified MSU's marketing materials in order to show the school's commitment to diversity, equity, and inclusion."
"In an apparent effort to be 'mindful of potential triggers for survivors of sexual assault,' the deanlet removed the MSU helmet from at least some of those materials. … Is anyone seriously triggered by MSU's Spartan helmet?"
"If they are," Heriot wrote, "maybe MSU is not the school for them. Moreover, regardless of the reason for one's anxiety, is it a good idea to go to law school if one is so easily triggered? Lawyers are supposed to be champions for their clients. That's what lawyers do. Is it fair to wish a lawyer who gets triggered by a university logo on a client who is in trouble and needs help?"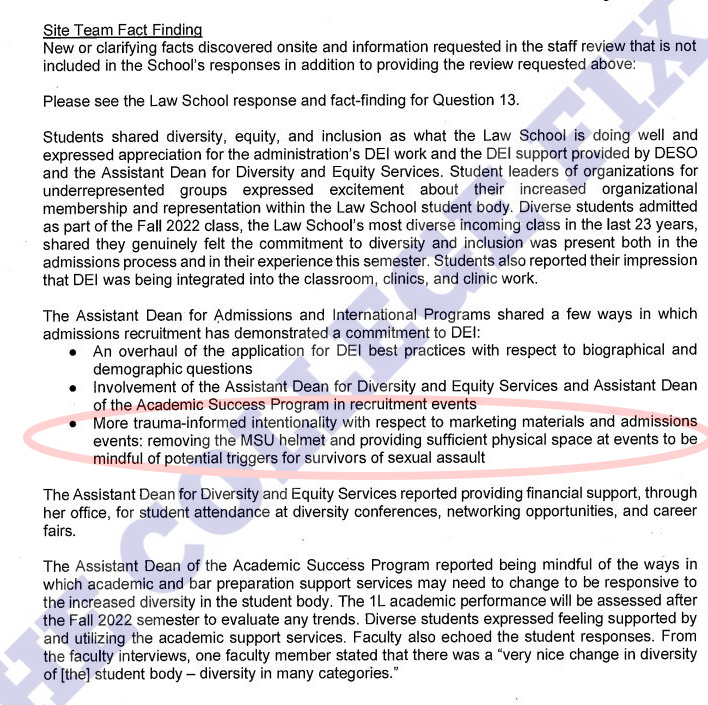 Linda Sheryl Greene, the law college's dean, and Mary Ferguson, its assistant dean for diversity and equity services, have not responded to repeated emails from The College Fix over the last several weeks asking about this issue.
Mark Bullion, a spokesman for Michigan State University, told The College Fix in an email the "Spartan helmet you are referencing has not been removed from any College of Law marketing or admissions materials."
Bullion did not respond to several follow up requests from The College Fix asking for clarification on the apparent inconsistency between the ABA memo and his statement.
The leaders of MSU's College of Law place a heavy emphasis on DEI, according to its website.
Bullion also told The Fix via email "Michigan State University is deeply committed to increasing diversity, promoting inclusion and ensuring equity through dedication to achieving excellence, providing robust educational opportunities to students of diverse backgrounds and fulfilling the university's responsibility to respond to the challenges of a rapidly changing society."
"This includes embracing an equitable, safe and supportive academic environment that is trauma-informed from the admissions process through graduation," he said. "These measures help cultivate an inclusive community with policies, programming and tools that support, promote and strengthen the success, well-being, mental health and belonging of all students to help them thrive."
Taking issue with an aggressive mascot is no outlier in higher education.
In 2013, when the University of Connecticut debuted its new logo, a husky dog, there was a complaint it promoted rape. Several universities have also dropped their Knights, Colonials and Crusaders mascots. Many mascots have been accused of promoting white supremacy. And last year some students argued their "Bullets" mascot should be scrapped.
But at Michigan State University, sensitivity to its Spartan mascot may run deep due to ancillary issues.
Last week, MSU fired its head football coach Mel Tucker amid sexual misconduct allegations. And for many years MSU was embroiled in a major controversy regarding its sports doctor Larry Nassar, who was convicted of sexually abusing female gymnasts.
MORE: SJSU bans 'Spartan Up' gesture because it allegedly resembles 'white power' sign
Right now The College Fix has a back-to-school campaign to help us continue to support our amazing student journalists. A donation today will be matched thanks to a generous limited-time matching gift opportunity from a friend of The Fix! CLICK HERE for more details — and thank you!
IMAGE: SNEHIT PHOTO / Shutterstock
Like The College Fix on Facebook / Follow us on Twitter