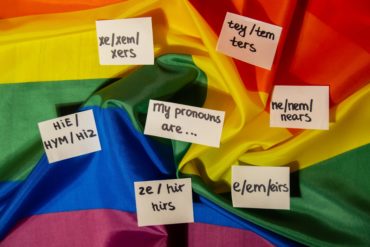 Guidelines are at odds with French Academy guidance
Professors in the Romance languages department at Michigan State University should ensure they use "inclusive language" and utilize "social justice resources," according to a guide currently on a school website.
The Department of Romance and Classical Studies lists resources on how to make languages such as French and Spanish "gender neutral" and how to incorporate "non-binary" pronouns into Italian.
A conservative think tank in Michigan called the guide a "waste" of taxpayer dollars in emailed comments to The College Fix.
"The MSU guide is a ham-handed attempt at regulating language from the top-down (no offense to hams)," Jarret Skorup, the Mackinac Center for Public Policy's vice president for marketing and communications, told The Fix. "The 'inclusive language' guides are often nonsensical and hypocritical – Michigan State University has and continues to violate the suggestions and guidelines."
"This work likely took months and who knows how much money," he said. "Their hearts are in the right place, but micromanaging language like this is very unlikely to actually work."
"MSU should have stuck to a much simpler guide, which can be laid out in one sentence: Faculty, students and staff should do their best to be fair, kind and compassionate [in] how they speak to and about others," Skorup said.
He called it "the latest example of taxpayer-funded waste in higher education."
The language guide also gives resources on "qu@*ring the Italian Language." The department also lists information on how to incorporate "Anti-Racism in World Language" and use "inclusive teaching."
A Spanish language resource explains how to use the correct pronouns for "non-binary" people. "The use of inclusive language has become increasingly popular, which is why we are going to talk to you about non-binary pronouns," the article states.
"As with everything, there are positions for and against," according to the article. "But what is undeniable is that it constitutes a way of including all people in something as human and as ours as language, speech."
The Fix reached out twice in the past month to Professors Safoi Barbana-Hampton, Aurora Wolfgang and Anthony Grubbs, the department chair, to ask for more information on how the guide is used in the classroom and for any feedback on the guide they had received. None responded to the inquiries.
Some institutions have opposed efforts to revise language to include modern day notions about gender. For example, the French Academy, which aims to protect the language and its history, rejects calls to update French to make it more "inclusive."
MORE: University of Illinois-Chicago teaches students to use 'inclusive language'
The nearly 400-year-old institution seeks to "maintain standards of literary taste and to establish the literary language."
In a 2017 statement, the academy "raise[d] a solemn warning" against "inclusive writing."
"The multiplication of spelling and syntactic marks that it induces leads to a disunited language, disparate in its expression, creating a confusion that borders on illegibility," the French Academy stated. "It is difficult to see what the objective pursued is and how it could overcome the practical obstacles of writing, reading – visually or aloud – and pronunciation."
The MSU scholars contacted for comment were also asked how the department's professors should balance the French Academy guidance with the language guide.
The Romance languages department is not the only place Michigan State promotes "inclusive" language. The school's Brand Studio warns against using terms like "American," "bunny" and "nickname."
The guide is "in alignment with strategic efforts around diversity, equity and inclusion […] Michigan State University values communications practices that support belonging for all Spartans," according to the university.
The Gender and Sexuality section of the guide warns against using terms like "female" ("reduces women to their assumed biological anatomy"), "sex change" ("gender transition" is better) and "nickname." In this age of gender fluidity and gender pronouns, using "nickname" could "imply that a person's name is a substitute for their legal name," as previously reported by The Fix.
MORE: Here's the truth about Colorado State's inclusive language guide
IMAGE: Yanishevska/Shutterstock
Like The College Fix on Facebook / Follow us on Twitter