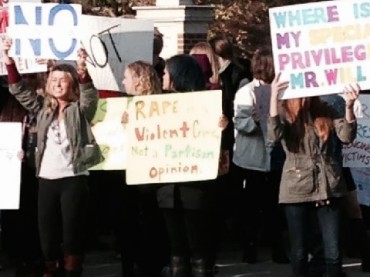 Michigan State University students have mounted a massive protest against George Will, calling him a "rape apologist" and planning a protest at the December graduation ceremony he is slated to speak at this Saturday.
As of early Monday, about 600 people had signed up to attend the protest, according to its Facebook page. There was also talk of offering some sort of alternative ceremony for graduates who are sexual assault and rape survivors, and some grads have posted that they will skip commencement altogether because of Will's presence, according to chatter on the page.
The students are upset because Will has questioned the stats that one in five college women have been sexually assaulted or raped, voiced concern that due process rights for the accused have been trampled on, and because he suggested "victimhood [is] coveted status that confers
privileges," although in that case he was writing in a general sense on the state of campuses and not specifically referring to sexual assault and rape victims.
No matter, college women have made the Pulitzer Prize-winning journalist the latest target in their anger over sexual assault.
"We are putting it on for the people who are there at graduation who have experienced sexual assault," MSU student Emily Gillingham, who is organizing the protest, told the campus newspaper the State News. "The way the article characterizes sexual assault reporting 'a coveted status or something that confers privileges"…it's just a slap in the face to those who have lived it."
Meanwhile, nary a peep over Michigan State University's other commencement speaker Saturday, liberal filmmaker Michael Moore – who makes films chastising the rich even though his net worth is $50 million.
The Michigan brouhaha is not the first time Will has faced campus controversy this year.
Hoisting signs such as "Quit giving misogyny a voice Miami" and "Where is my special privilege Mr. Will?" roughly 75 students choked the business school gates where the conservative columnist gave a guest lecture at Miami University in Oxford, Ohio, in October.
He was also disinvited from speaking at the all-female Scripps College.
But Will has been steadfast in his own defense, explaining how he actually takes college rape more seriously than campus administrators.
Jennifer Kabbany is editor of The College Fix (@JenniferKabbany)
Like The College Fix on Facebook / Follow us on Twitter
IMAGES: Main, George Will protest at Miami University in October/The College Fix; Inside, Penn State/Flickr