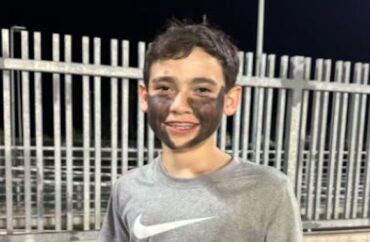 Student had never even heard of 'blackface' before
A white California middle schooler has been suspended and banned from sporting events by his school for allegedly wearing "blackface" at a district high school football game.
According to Libs of TikTok, the Muirlands Middle School student actually was dressed up in school-spirit "war paint" (pictured) for the La Jolla High School pigskin contest.
The report notes the student wasn't the only one in attendance with face paint, that there were "no reports of him displaying bad behavior at the game," and that a black security guard working the game even "joked" with the student about "making his 'spikes' bigger by adding more paint."
The following week, the student's parent was called in to the school to be informed their son would suspended for an "offensive comment, intent to harm" under the category "hate incidents."
The description of the 13-year-old boy's "offense" reads "painted his face black at a football game."
Despite the parent's explanation that the paint was merely for school spirit, not to mention that the boy had never even heard of "blackface" until someone told him about it, the Muirlands Middle principal (Jeff Luna, according the school's website) "remained adamant" the suspension would remain in place.
CalCoastNews.com notes that Luna claimed the kid's face paint was "blackface" because La Jolla HS's football opponent that night, Morse High, is "largely black."
MORE: Professor pens two-page apology for offending students with blackface discussion
The parent said it was "reckless to assume the worst in a child only because he's white," and asked why there wasn't more of an  investigation if the situation was so serious.
Libs of TikTok consulted attorney Karin Sweigart with Dhillon Law, who specializes in constitutional and free speech issues. She has actually worked on cases involving blackface before, including one where two teen boys sued a school in California over being accused of blackface. "The Supreme Court has several times dealt with the issue of students' off-campus speech…there are serious constitutional problems on what the school did and with California law. [Muirland Middle School is] really not on very solid ground. Their acts are very constitutionally suspect." Karin added, "I never thought I'd have a niche practice in blackface cases, but that's something we dealt with a couple of times."
Neither the San Diego Unified School District nor Muirlands Middle School responded to Libs of TikTok for comment. The College Fix reached out to Principal Luna via email; this article will be updated if he responds.
MORE: Arizona State U. instructor accuses black DJ at local school event of dressing in 'blackface'
UPDATE: This article was updated with information from CalCoastNews.com.
IMAGE: Libs of TikTok/X
Like The College Fix on Facebook / Follow us on Twitter