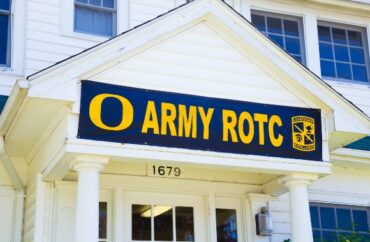 ROTC programs exist at thousands of colleges nationwide
Both the Army and the Navy said that their branches of the military are on track to meet campus recruitment commission goals despite falling short in 2022.
The College Fix reached out to the recruiting offices of the U.S. Air Force, Army and the Navy twice over the last three weeks via email with questions regarding 2022 recruiting shortages and what role recruiters and ROTC programs have played this year in meeting recruitment goals.
"As the nation's largest commissioning source, the Army Reserve Officer Training Corps is available at more than 900 college campuses nationwide and produces more than 5,000 Second Lieutenants a year, or approximately 75% of all new Lieutenants entering the U.S. Army annually," Maj. Dan Lessard, a spokesperson for U.S. Army Cadet Command, told The College Fix.
"U.S. Army Cadet Command is on track to exceed our commission goals as set by the Army for the next two years."
The Navy recruiting office concurred.
"Today, there are over 2,300 colleges or universities that have an ROTC program or formal agreement to allow students to affiliate with an ROTC program," a Navy spokesperson wrote.
"These programs are vital to the recruitment of a sufficient number of officer commissioning candidates as ROTC is the largest source for new officer commissions each year. Military recruiters leverage the military presence at these colleges and universities to bolster awareness of military opportunities among students who are not directly affiliated with an ROTC unit."
"The Naval Reserve Officers Training Corps (NROTC) program met mission goals in 2022 and 2023, and are on track to meet mission in 2024," the Navy spokesperson said via email.
"As part of the overarching Navy Recruiting mission, NROTC continues to work to attract the most qualified and highest quality young people in an increasingly competitive recruiting environment. The presence of Navy Recruiters in our communities plays a vital role in that mission and their work has greatly contributed to the success of the NROTC program."
National defense think tank comments on recruiting shortages
Katherine Kuzminski, head of the Military, Veterans and Society Program at Center for a New American Security, told The College Fix that while anti-military sentiment at colleges caused recruiting troubles during the Iraq war, other factors affect recruiting on campuses today.
"The biggest reason for the decrease in military recruiters on high school and college campuses is the idea that young people should go to college directly out of high school and then decide what to do for the rest of their life," Kuzminiski said.
"This idea has become so entrenched in American society that most people in the traditional 17 -21 year old recruiting age range don't even consider joining the military," she said.
"After 50 years of a volunteer force, the military is smaller than ever and fewer people than ever know someone who has served, which also plays into whether young people consider joining."
According to Kuzminiski, any school that receives federal funding technically must allow military recruiters on campus. However, she said that the military is looking for other ways to reach potential recruits.
"With young people spending more time online, the military is focused on digital outreach," she said. "Expanded outreach at regional sporting events, similar to what has traditionally been done at NASCAR races, is also being considered."
The Military Service Promotion Act of 2023 was introduced in the Senate on June 7, cosponsored by Republican Sen. Mitt Romney and Republican Sen. Angus King.
Under the legislation, higher education institutions would be required to provide telephone listings and records of students older than 17 who dis-enroll to military recruiters.
"This could help by encouraging students who have found that college isn't for them to consider joining the military," Kuzminski said.
"The military can benefit these students by providing them with steady employment, career training and student loan repayment plans," she continued. "There used to be an idea in military recruiting that the military didn't want older recruits who had failed in college and the private sector, but this has changed."
"The U.S. Army in 2022 had its toughest recruiting year since the advent of the all-volunteer military in 1973 and missed its goal by 25%," The Wall Street Journal reported June 30.
"Navy expects to fall short by as many as 10,000 of its goal of nearly 38,000 recruits this year, and the Air Force has said it is anticipating coming in at 3,000 below its goal of nearly 27,000," the article continued.
"The Marine Corps met its target last year of sending 33,000 to boot camp and expects to meet its goals this year, but its leaders described recruitment as challenging."
MORE: 'Army Brat' turned campus freedom fighter: conservative teaches peers to stand strong
IMAGE: Joshua Rainey Photograpy/Shutterstock
Like The College Fix on Facebook / Follow us on Twitter