Black student demands lead to segregated anti-racism 'struggle' sessions at Carleton College
A private Minnesota college has mandated monthly anti-racism training sessions for all of its employees, with most sessions segregated by skin color.
"All faculty/staff will need to either attend the live session or watch the recorded session each month," Carleton College's website states.
Carleton College is a small but influential private liberal arts college in Northfield, Minnesota, with about 2,000 students and an endowment of close to $900 million. Tuition is $59,000 a year.
The mandatory trainings apparently are not sitting well with all employees.
According to a slide from the March 2021 affinity group meetings, the anti-racism trainers state that "We've been told that in some groups that after saying that there's no racial problem at Carleton some people just refuse to participate."
The trainers accuse such people of perpetuating racism.
"This is uncomfortable, but totally predictable," the slide states. "After all, a refusal to acknowledge racism as real helps keep the system intact."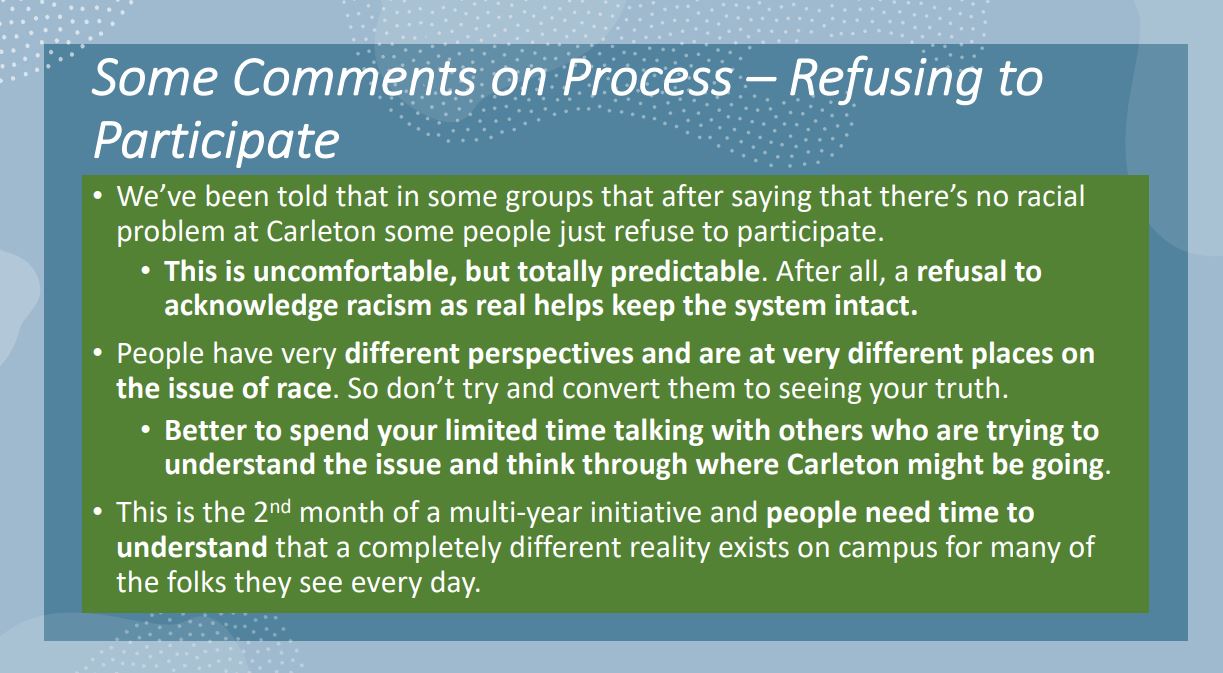 Carleton College will not reply to repeated requests from The College Fix seeking comment.
Black student demands lead to segregated sessions
Last summer, as much of Minnesota was roiled by protests, a Carlton student group known as the Ujamaa Collective delivered a message to the college leadership simply titled "Our Demands."
The 10-page document, which named the group's 13 members, began, "We, as black students at Carleton, desire to see our institution take swift, clear, and forceful actions on issues that affect the mortality [of] Black people and the wellbeing of Black students."
The message admitted "there is a ready acknowledgment by faculty, staff, and students of the egregious and heinous nature of the killing of George Floyd, Breonna Taylor, Ahmaud Arbery, Tony McDade, Michael Brown, and Dana Martin, Matthew Lee, Erika Guevara-Rosas, Chynal Lindsey, and so many others."
Nevertheless, the Ujamaa Collective insisted, "there also needs to be a recognition that black students at Carleton are not always made to feel safe, supported, or equal to their peers."
"Carleton prides itself on 'diversity,' yet we do not see the mechanisms implemented nor the resources deployed by the College to ensure the safety, security, and viability of Black students," the message stated.
The list of demands was long, and included a call for "all members on this committee" to "receive financial compensation" because "Black students bear the burden of promoting and addressing issues facing the Black community, receiving no material support from the College."
The section "Institutional Commitment Against Anti-Black Racism and Discrimination" began by calling for "mandatory anti-racist training for all incoming and current faculty, staff, administrators, and students."
The college "must contract independent Black anti-racist trainers to underscore the importance of racial, religious, gender, and sexual diversity," the Ujamaa Collective demanded.
The response by Carleton leadership was to give the protesters the lion's share of what they demanded.
"Student leaders have been thoughtful, thorough, and firm in their insistence on change, and we agree with their assessment that change is essential and overdue. As we think further about what it will take to dismantle institutionalized racism and transform Carleton into a college that lives up to our collective aspirations, we must address gaps in equity and justice on campus – gaps we are turning to with urgency and attention. As a first step, anti-racism training facilitated by non-Carleton personnel will be required of all faculty and staff," Carleton leadership replied in an August 10 letter, signed by President Steve Poskanzer and a half-dozen deans and vice presidents.
With that concession by the administration, anti-racism training came to Carleton College.
The struggle process
Anti-racism training on the scale that the Ujamaa Collective called for, and that Carleton is delivering, is not a one-and-done affair.
According to Carlton's own website, anti-racism "community wide events" are scheduled to occur monthly between January and May.
In addition to those monthly events, there are also monthly "affinity group" sessions for the college's faculty of several hundred. These groups are so-called because staff is divided up roughly into groups of people with whom one shares the "affinity" of skin color.
"There are 12 sessions per month: 1 biracial/multiracial; 1 open to all races; 2 BIPOC (Black Indigenous People of Color); 8 white," the website states.
Again, these smaller meetings are mandatory, as readers are advised, "All faculty/staff will need to attend one (1) affinity group per month."
The individual sessions are facilitated by the outside trainers and divvied up by race.
University of Saint Thomas psychologist Bryana French, who is African-American, leads the three BIPOC and biracial affinity groups. French is probably most famous for co-authoring a study that found a large number of men had been pressured into having "unwanted" sex.
Stephen Brookfield, who is white, leads the eight white affinity groups. Brookfield is a consultant and co-author of the forthcoming book "Becoming a White Anti-Racist."
The lone group that is not broken down along racial lines is led by both French and Brookfield.
The monthly community-wide presentations are supposed to drive discussion in the affinity groups, so what is being talked about in those presentations?
According to the skeletal syllabus on Carleton's website, February featured discussion of "What Racial Identity Means for How Life at Carleton Is Experienced." April: "Implicit Bias and Microaggressions." May: "Bystander Interventions and Allyship."
A message from instructors French and Brookfield on the website advises faculty, "For a major perspective and paradigm shift to take root, people need forums to process their struggles with moving to an antiracist orientation. We are advocating that conversations be reflective spaces be created to help people work through their grappling with what it means to develop an antiracist identity."
Carleton faculty are expected to do that grappling and reflecting while, in at least 10 out of 12 availabilities, being divided up by broad racial categories in those forums.
Carleton refuses comment
Outside parties may never know what is said in those struggle sessions. That is by design.
The Carleton website insists, "Affinity-group meetings will not be recorded." In this age of Still Sorta COVID, it instructs people who have to take part in any of the proceedings digitally how to do so anonymously.
The College Fix emailed Carleton's press department with five questions about its anti-racism training regime. These questions included "Why are faculty divided by skin color for most of the affinity group sessions?" and "Have any faculty opted out?"
Carleton acknowledged receipt but otherwise did not answer, despite multiple requests.
Soon after the initial request, some of the information on Carleton's website about the anti-racism training (which The College Fix had already screen captured) was pulled behind a firewall.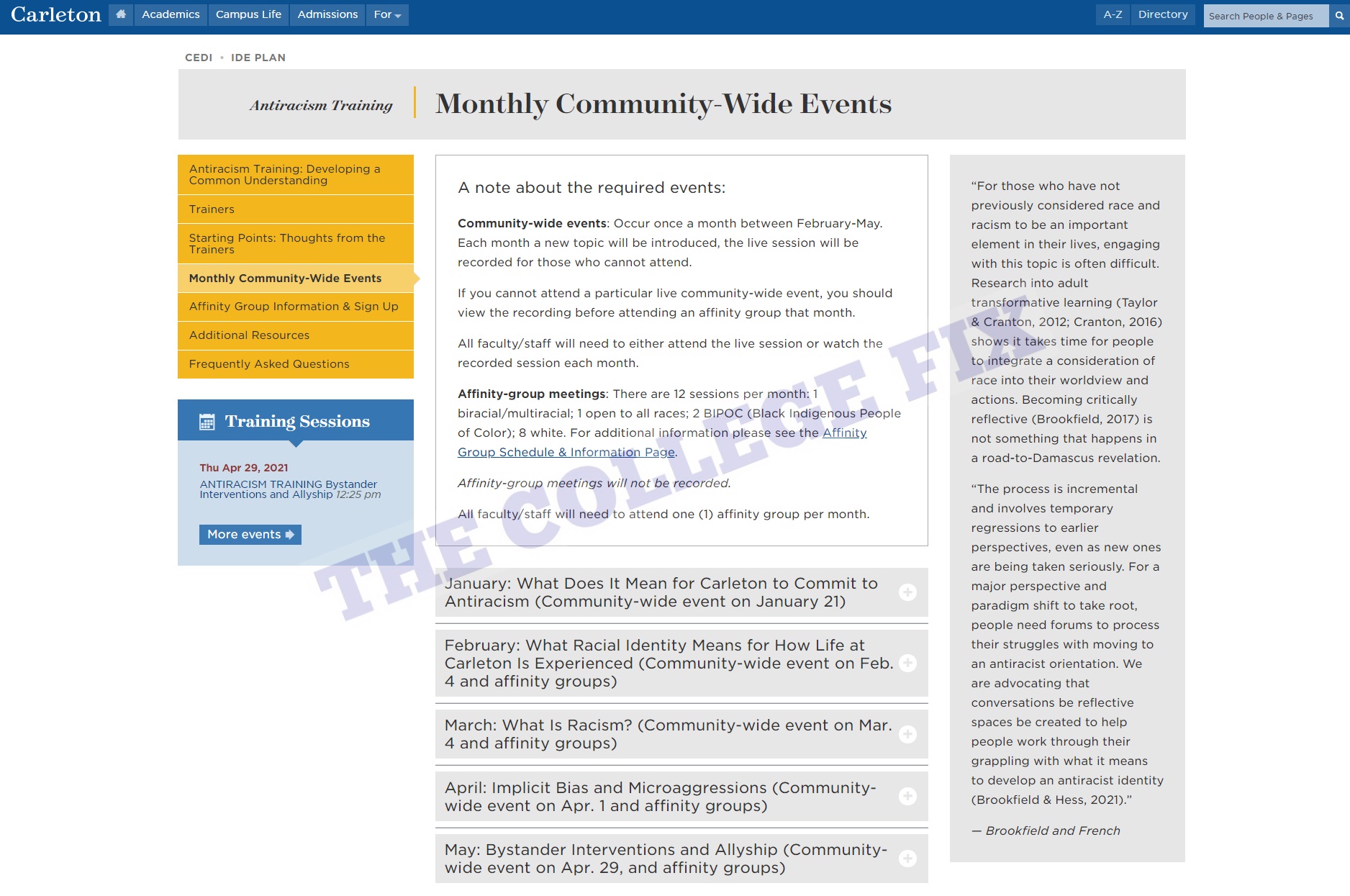 The College Fix contacted one of the more outspoken Carleton professors, political scientist Jeffrey Snyder. He declined to comment or to direct us to someone who might speak on the record.
The Fix also sent a request for comment to instructor French about the need for her training and why faculty are being separated by race in most affinity groups. She did not return that request by press time.
MORE: Judge approves lawsuit claiming Carleton College ignored exculpatory evidence in rape case
IMAGE: Tmphoto98 / Shutterstock
Like The College Fix on Facebook / Follow us on Twitter