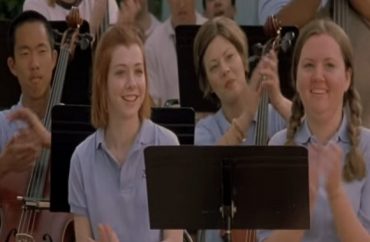 Since knowing the race and/or gender of who wrote the piece of music students are playing is so important, the band directors at Spring Lake Park High School in Minnesota "have pledged" to include at least one composition by a woman, and one by a "composer of color" in each of its bands' concerts.
Not only that, the directors plan to purchase music only by people of color this year.
According to a story at NPR, Director Brian Lukkasson says this is because minority composers (and women) "are shut out of the canon, and often stereotyped."
As a result, he adds, "[i]t's really hard to find music because there's just not a lot of composers of color that are being published."
"I really, really want other students of color to be able to feel like they are welcomed and appreciated anywhere," says Kia Muleta, one of Lukkasson's students, "that they don't have to check themselves at the door."

Muleta is a junior, she's been playing the clarinet in since fifth grade and she says the students sitting around her are usually white. She is black. And she says it bothers her that the composers they used to play were usually white.

"There's a kind of an ideological segregation of who can and cannot be in band, based on who the composers are, and what the music is like."

This year they're playing "Of Honor and Valor Eternal," a tribute to the Tuskegee Airmen, African-American military pilots. It's by Ayatey Shabazz, a black composer from Mississippi. Shabazz says his grandfather knew one of the airmen, and stories he heard as a child inspired the composition.
One of the other Spring Lake directors, Nora Tycast, says "The more you practice talking about race, culture and ethnicity the more comfortable you are."
But … in band class? My high school's band — more ethically diverse than Spring Lake Park's — worried more about things like sight reading, understanding keys and modes, the scales and dynamics.
Then again, that was back when hyper-awareness of all things race, gender, and ethnicity wasn't an omnipresent aura.
MORE: School district 'racist' for banning rap music on buses, but no one minds religious ban
MORE: Even Harvard's Music Department cannot avoid the 'social justice' mantra
MORE: No, an accusation of musical philistinism is NOT a microaggression
Like The College Fix on Facebook / Follow us on Twitter
IMAGE: YouTube