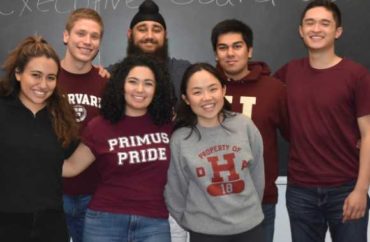 Harvard Undergraduate Association denies it was approached by minority group
A Harvard club accused the undergraduate student government of neglecting their concerns and violating protocol after the association denied attempts to establish a diversity, equity and inclusion team.
Primus, a Harvard student organization that represents first-generation and low-income students, led the attempt to install DEI within the Harvard Undergraduate Association.
"The Primus VP of Advocacy and an HUA co-president agreed to create a DEI team, which would mostly represent underrepresented students at the college, such as [first generation, low income] Queer, BIPOC, disabled, and undocumented Harvard students," the Primus Executive Board told The College Fix via email.
Then HUA met and allegedly voted against the creation of a DEI team without any input from Primus.
"They took the vote to have a DEI team off-the-record, without any FGLA representation present, and supposedly everyone voted against incorporating it," the Primus executive team told The Fix.
However, HUA denied the allegations from the first-generation student group.
The student government was "never formally approached by PRIMUS about the creation of a DEI team," according to a statement on Instagram.
In another hurdle for Primus, the student government constitution "does not grant its executive board the authority to create new teams," according to The Harvard Crimson. "The creation of a new team would require amending the organization's constitution via a College-wide referendum."
Primus initiated referendum, but Harvard did not deliver commission
"Primus initiated a student-led referendum to form an Inclusion Team & First-Year Team on the HUA," the group wrote on Instagram. "By garnering over 350 signatures [on a petition], we've surpassed the 5% benchmark within the necessary timeframe. [HUA] assured us they had an Election Commission."
However, HUA did not deliver the commission as promised to discuss amending the bylines to allow it to create the DEI team the organization sought.
"The HUA failed to fulfill its own duties to form an election commission," Primus wrote on Instagram. "As a result of these failures, student advocacy is being neglected and refusal to hold PRIMUS's referendum is an abusive use of unconstitutional authority."
"It is with great sadness and frustration that the student government at Harvard College has not helped us establish an FGLI or DEI team to help future generations of Harvard students," the exec board stated in its comments to The Fix.
The Harvard Undergraduate Association has not responded to multiple requests for comments on the situation via email and social media messaging.
MORE: Harvard student body president under fire for defending Christian group
IMAGE: Harvard Primus/Facebook
Like The College Fix on Facebook / Follow us on Twitter