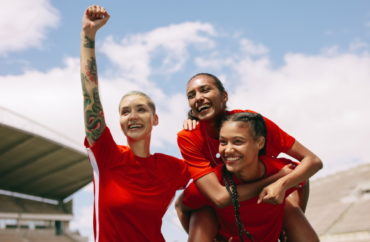 'In Missouri, we support real fairness, not injustice disguised as social righteousness'
Missouri became the latest state to ensure that women are only competing against women in sports throughout college.
Republican Governor Mike Parson signed SB 39 Wednesday to ensure that female sports are not taken over by males who are confused about their gender.
The legislation "prohibits educational institutions from allowing biological male students from participating on sports teams designated for biological females," according to the governor's office.
Governor Parson stated that "[w]omen and girls deserve and have fought for an equal opportunity to succeed, and with this legislation today, we stand up to the nonsense and stand with them as they take back their sport competitions."
"In Missouri, we support real fairness, not injustice disguised as social righteousness," the Republican stated.
Alliance Defending Freedom, a Christian legal nonprofit, thanked legislators and the governor for passage of the bill.
"Girls deserve equal opportunities to experience the thrill of victory. We commend Missouri for becoming the 22nd state to ensure women and girls can compete on a level playing field," ADF Senior Counsel Christina Kiefer stated in a news release.
"The increasing incidents nationwide of males dominating girls' athletic competitions demonstrate that when the law ignores biological differences, it's women and girls who bear the brunt of the harm," Kiefer stated. "In light of the Biden administration's recent attacks on women's sports, it's imperative that states continue to step up and affirm that biology, not identity, is what matters in athletics."
"We are grateful to Gov. Parson and the Missouri Legislature for enacting these critical protections," Kiefer stated. "Thanks to their strong stand, Missouri's female athletes from grade school to college will not face the losses that come with allowing males to compete in women's sports."
The ACLU of Missouri criticized this bill and another one Parson signed to protect children from transgender drugs and surgeries which seek to help minors look like the opposite sex.
"These bills do nothing but harm transgender Missourians and their families while adding inequities to a system already ripe with discriminatory laws and practices," the liberal advocacy group stated. "The ACLU of Missouri will continue to explore all options to fight these bans and to expand the rights of trans Missourians."
Missouri joined 21 other states in protecting women's sports. Alabama Governor Kay Ivey signed similar legislation at the end of May, as previously reported by The College Fix.
MORE: Lia Thomas teammate breaks her silence – Penn 'wanted us to be quiet'
IMAGE: Jacob Lund/Shutterstock
Like The College Fix on Facebook / Follow us on Twitter