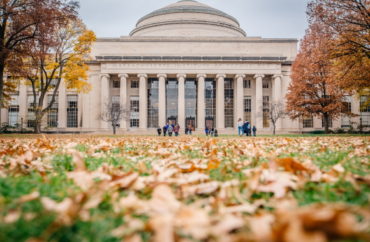 Since 2014, the Massachusetts Institute of Technology has accepted over $51 million in monetary gifts from the Skolkovo Foundation, a relationship the Department of Education recently deemed a national security risk.
In a recent report, the Education Department criticized the partnership between MIT and the Skolkovo Institute of Science and Technology, saying it amounted to "conducting sensitive research in conjunction with an adversarial government."
"While the Department does not police subject matter, the public should be aware of such partnerships that concern national security," the report reads.
According to databases of foreign contributions to American institutions of higher education maintained by the Education Department, the Skolkovo Foundation made five monetary gifts to MIT totaling $51.5 million between March 2014 and February 2016. In addition, MIT also accepted a $30 million "contract" from an unnamed Russian source in December 2019.
A spokesperson for MIT declined numerous requests by The College Fix to comment for this story.
On October 26, 2011, MIT and the Skolkovo Foundation created the Skolkovo Institute of Science and Technology (nicknamed "Skoltech"), a joint venture with the goal of "empowering Russia's technology sector and attracting foreign investment."
Topics of research at Skoltech included oil and gas extraction, biomedical research, communication infrastructure, energy research, manufacturing, and space technology. The first graduates received their diplomas in June 2015.
But while the joint venture was meant to benefit both the Russian and American universities, governance of Skoltech is firmly in Russian control.
"Its board of directors consists of high-ranking Russian government officials, and Americans are scarcely represented on the Board of Trustees," states the Education Department report.
It noted the school's chairman, Arkady Dvorkovich, most recently served as Appointed Deputy Prime Minister of the Russian Federation under Prime Minister Dimitry Medvedev.
The Education Department report was issued after the department uncovered nearly $6.5 billion in foreign contributions which American universities failed to disclose.
Since 2014, MIT has collected nearly $920 million in foreign gifts and contracts, although the data does not specify how many contributions MIT failed to report or how many contributions the school reported as a result of pressure by the department.
"The threat of improper foreign influence in higher education is real," said Secretary Betsy DeVos* in a statement following release of the report.
"Our action today ensures that America's students, educators, and taxpayers can follow the money," she said, adding, "Transparency in foreign funding of higher education is not just something I think is a good thing; it's the law. For too long, enforcement of that law was lax, but not anymore."
On September 26, 2019, Department of Education Principal Deputy General Counsel Reed Rubinstein sent MIT President L. Rafael Reif a letter requesting an accounting of the school's "gifts, contracts, and/or restricted and conditional gifts or contracts from or with all foreign sources." In addition, Rubinstein requested documents specifically related to MIT's relationship with Skoltech.
Moreover, Rubinstein requested documents related to MIT's relationship with Kaspersky Business Lab, a Russia-based cybersecurity company.
In its report, the department notes Kaspersky's suspected ties to the Russian government. The U.S. government grew so suspicious of Kaspersky that in 2017, the Department of Homeland Security expunged Kaspersky products from U.S. government servers due to "ties between certain Kaspersky officials and Russian intelligence and other government agencies."
"Kaspersky alleges independence from the Kremlin, but credible documentation continues to suggest otherwise," writes the Education Department in its report.
"Kaspersky has no ties to any government, and the company has never, nor will ever, engage in cyber offensive activities," a spokesperson for the company told The College Fix via email.
"The company maintains that no public evidence of any wrongdoing has been presented by the U.S. government, and that the U.S. government's actions against Kaspersky were unconstitutional," said the spokesperson, adding the company "always abided by the highest ethical business practices and stringent industry standards throughout its history."
In 2017, 2018, and 2019, MIT and Kaspersky partnered to offer a "Cybersecurity Insight" seminar at which attendees could learn about "current cybersecurity technologies, trends, and management practices."
"As a member of the Cybersecurity at MIT Sloan consortium, formerly the Interdisciplinary Consortium for Improving Critical Infrastructure Cybersecurity, Kaspersky partnered with the Massachusetts Institute of Technology's Sloan School of Management to collaborate on strategic, managerial, and operational aspects of critical infrastructure cybersecurity," Kaspersky confirmed to The College Fix via email, further noting that Kaspersky ceased to be a consortium participant in 2020.
According to a U.S. government database, Russian interests have contributed over $101 million to American colleges and universities since 2014. In addition to Russia, the Department of Education's request of MIT includes documents relating to contributions from interests in China, Saudi Arabia, and Qatar.
Since 2014, the largest contributors to MIT have been interests in Singapore, who have contributed gifts and contracts totaling $137 million.
During the same period, contributions from interests based in Saudi Arabia totaled $91 million, while Russian-based interests contributed $83 million, England $76 million, China $62 million, and Hong Kong $67 million.
Coincidentally, the first Soviet agent to enroll in an American college, Semyon Markovich Semyonov, attended MIT in 1938 when he was caught stealing America's scientific secrets for the Russian government.
Foreign Contributions to MIT by Country, 2014-2020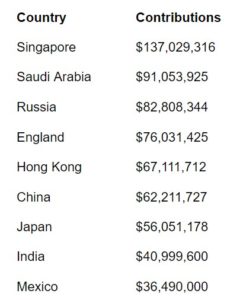 Source: U.S. Department of Education
MORE: Department of Education finds $6.5 billion in unreported foreign donations to U.S. colleges
IMAGE: Paper Cat / Shutterstock
Like The College Fix on Facebook / Follow us on Twitter