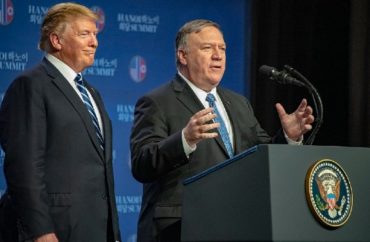 University said COVID restrictions made event infeasible
Massachusetts Institute of Technology recently disputed the claim by former Secretary of State Mike Pompeo that it canceled his speech over concerns about offending students from China.
The allegations surround a planned speech in 2020, but only came to light after Secretary Pompeo published a book in January, which made the claim.
He is considered a potential candidate for president in 2024 and served in President Donald Trump's administration as the director of the Central Intelligence Agency as well.
In the memoir titled "Never Give an Inch: Fighting for the America I Love," Pompeo wrote that MIT canceled his planned speech about the Chinese Communist Party's influence in higher education.
Pompeo's team set up a speech at MIT but later "received a call a couple weeks before [the] scheduled remarks," Pompeo (pictured) wrote.
"'We're sorry, but we will be unable to host the secretary on our campus,' came the message. In the end, the president of MIT, Rafael Reif, made clear that the risk of offending his Chinese students was too great."
MIT disagreed with Pompeo's claims.
Spokesperson Kimberly Allen referred The College Fix to a Twitter thread where the university explained that it never approved the event due to limitations on large gatherings as a result of the outbreak of COVID.
1/ Setting the record straight: Pre-vaccine in 2020, when Sec. Pompeo's staff inquired about a speech at MIT, we could not accept to host because of our then policies on Covid – no guests and no gatherings greater than 10 people. https://t.co/hGEidA1pDe

— MITCommsVP (@MITCommsVP) January 27, 2023
"Secretary Pompeo was not scheduled to speak at MIT. MIT was contacted by a member of the Secretary's staff in August 2020, seeking a venue for Secretary Pompeo to speak later in the fall," Allen told The Fix. "The Institute could not accept the proposal to host because doing so would have flown in the face of its then-policies on COVID: No guests and no gatherings greater than 10 people."
Pompeo's publisher HarperCollins Publishers did not respond to a Fix request to get connected to the former secretary of state. Pompeo did not respond to a Twitter direct message sent in the past month.
The Foundation for Individual Rights and Expression, which drew attention to Pompeo's claims in a letter sent to the university, said "questions remain" after MIT's official response.
"Pompeo asserts that the university confirmed it would host the event and went so far as to agree on a date for it, but then backtracked, with former President Rafael Reif specifically citing 'the risk of offending his Chinese students,'" the group wrote.
"MIT should clarify whether the event was planned, despite campus COVID-19 restrictions, or if it was never scheduled at all," Senior Scholar Sarah McLaughlin wrote. "Further, it should clarify whether its president indeed cited Pompeo's opinions as the impetus for the cancellation, rather than a viewpoint-neutral policy governing in-person events."
MORE: MIT faculty 'increasingly afraid to express their views,' survey finds
IMAGE: Department of State/Wikimedia Commons
Like The College Fix on Facebook / Follow us on Twitter