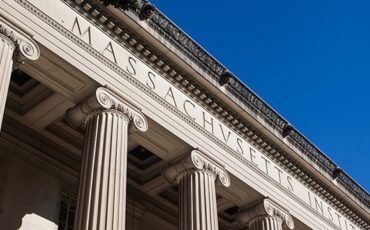 Students and faculty 'unclear' if 'administration protects free speech'
The Massachusetts Institute of Technology continues to support a campus community that stymies academic freedom and free speech, a newly released Foundation for Individual Rights and Expression survey report states.
"Large portions of MIT faculty and students are afraid to express their views in various academic settings. Faculty and students are at least as afraid of each other as they are of the administration," Komi Frey, the author of the FIRE report, told The College Fix via email.
The report, released Jan. 19, found that self-censorship and coerced speech remains a pressing concern among faculty and students.
About 25 percent of faculty reported they are "very" or "extremely" likely to self-censor, and 40 percent of faculty are "more" or "much more" likely to self-censor on campus now than in 2020.
The foundation surveyed over a hundred MIT faculty and students in 2022.
FIRE also found 32 percent of students and 41 percent of faculty "agree that the administration's stance on free speech is not clear."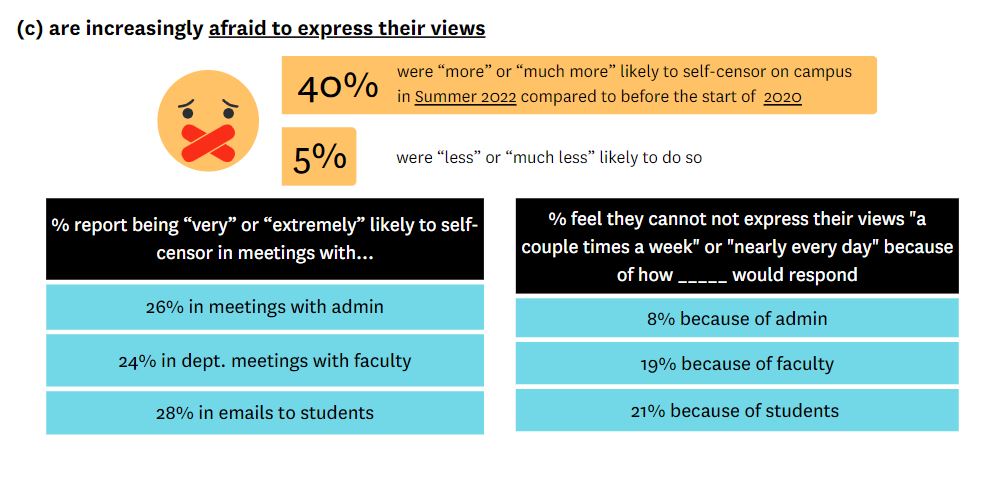 The ambiguity on the administration's stance on freedom of speech stems from the fact that, as an institution, MIT seeks to protect its reputation as much as possible, Frey told The Fix.
"Administrators, in general, want to avoid bad publicity, and when deciding whether to allow a speaker, I think they often compare the magnitude of backlash to allowing vs. disinviting the speaker," Frey said.
MIT was engulfed in controversy for canceling a guest lecture to be given by University of Chicago geophysicist Dorian Abbot in 2021. FIRE's survey found 52 percent of MIT faculty opposed the decision to disinvite Abbot.
Underscoring that, it found 38 percent of faculty "say the administration wouldn't have a speaker's back in a controversy," and more than three-quarters of MIT students "think it's acceptable to shout down a speaker, and more than half agree it's acceptable to physically block students from attending a speech," FIRE reported.
Daryl Morey, an alumnus of MIT, wrote an op-ed in The Wall Street Journal that when he attended MIT Sloan School of Management from 1998 to 2000 that a "culture of open inquiry existed."
"Given the reported state of speech at MIT today, I question whether students are experiencing the discomfort and risk necessary to navigate the real world or developing the courage to speak their minds when it matters," he wrote in the Jan. 23 piece, headlined "The Numbers Show That MIT Has a Free-Speech Problem."
Peter Bonilla, executive director of MIT Free Speech Alliance, told The College Fix there are both negatives and positives to take from FIRE's report.
"It suggests both a problematic degree of self-censorship and support for illiberal, censorious tactics that speak to wider problems in our free speech culture," he said. "It also, however, illustrates just how much can be accomplished through clear, decisive leadership on free expression from a university's administration."
There may not be one simple answer to the problem, but there definitely is a solution if MIT wishes to foster a culture of free expression, Frey said.
"To promote a culture of free expression, MIT can modify several vague speech-related policies, eliminate mandatory DEI statements, and offer freshmen orientation on free expression," Frey said.
MIT faculty recently adopted a resolution that defends freedom of speech and expression — even speech some find "offensive or injurious."
The "Free Expression Statement," approved by the faculty senate Dec. 21, states that "Learning from a diversity of viewpoints, and from the deliberation, debate, and dissent that accompany them, are essential ingredients of academic excellence."
It remains to be seen whether top administrators will embrace or endorse the measure or other free speech policies.
"I would hope to see MIT affirm the free expression statement that was passed in December by the faculty, which will give it more status and influence," Bonilla said. "Other suggestions made by FIRE, such as reforming the problematic portions of its speech policies and adding programming on free expression to its student orientation, should be followed as well."
MORE: MIT faculty adopt free expression statement that protects 'offensive' speech
Like The College Fix on Facebook / Follow us on Twitter