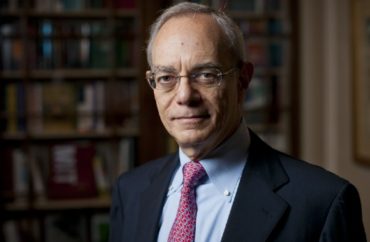 Includes more money for a graduate program in Native American languages
The Massachusetts Institute of Technology has pledged to increase its support for the "Indigenous community."
The new initiative, which includes added tenured faculty positions and funding for research, came as a result of a meeting between President Rafael Reif and students in a class called "The Indigenous History of MIT."
President Reif (pictured) announced that the class had "opened [his] eyes" and it inspired him to bolster funding for Indigenous studies.
Some of the money could come from the state, which previously sent payments to MIT because of its status as a land grant university, Reif stated.
He also announced a new "tenure-line faculty position in Native American studies" in the university's social sciences school.
"We will launch a search for an experienced scholar next academic year, with the aim of having that person in place at the start of the 2023–24 academic year," Reif stated in his email to the campus community.
The new faculty hire will not be alone in their research – Reif pledged to hire at least one new "scholar of Native American studies" through the MLK Visiting Professors and Scholars Program.
The Visiting Professor Program works to promote the work of racial minority professors. The scholars are primarily black this year. It did not respond to a request for comment from The College Fix on if it had any particular Indigenous scholars in mind as well as the importance of including more Indigenous people.
MORE: Tribal reps a no show to pick up tomahawk demanded from Harvard
The third initiative will include funded research into the history of MIT's third president, Francis Walker. Reif stated that the research would examine Walker's role "in advancing the American reservation system, which cruelly and unjustly relocated Native Americans from their land to make way for European settlers."
"What became clear to me is that addressing Walker's legacy is an essential step in our commitment to our Native American students, alumni, and communities—but it is not the finish line," Reif stated.
MIT will also fund "new opportunities for students to pursue scholarship in Indigenous languages." This will include "two graduate fellowships" for students to study "endangered languages" such as "Passamaquoddy, Iñupiaq and Wôpanâak nations." The university's linguistics department has a Master's program for people who want to learn one of these languages.
The Fix reached out to MIT media representatives Sarah McDonnell and Kimberly Allen twice via email in the past week but did not receive a response.
The Fix asked if the university would fund these programs even if the state did not provide money, what surveys were conducted to establish an interest in the language program expansion and the importance of studying former President Walker's actions and beliefs.
Three students graduated in 2021 with a master's degree in an Indigenous language, according to the commencement ceremony program.
The College Fix asked John Dozier, the campus community and equity officer, diversity officer with the university, for more information on the interest in these language study programs and about past support the university has given to Native American students.
"I share the president's appreciation for having a deeper understanding of MIT's connections to Indigenous communities, and I look forward to building on this knowledge," Dozier stated in his email.
MORE: DePaul adopts Indigenous 'land acknowledgment'
IMAGE: MIT.edu
Like The College Fix on Facebook / Follow us on Twitter