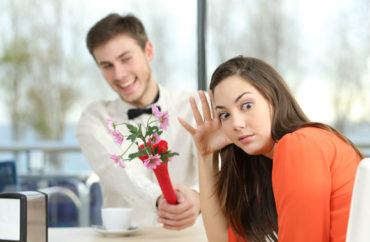 'Power or authority' not limited to supervision and evaluation
The University of Missouri believes that asking someone on a date can violate Title IX in certain situations. Its officials can't agree on which situations, however.
In a motion for summary judgment filed on Christmas Eve, Jeremy Rowles shared excerpts of depositions with Mizzou officials from his federal lawsuit against the public university.
They suggest that male students should avoid asking out female students at all, particularly when the male is physically larger than the female.
A bit of background: Judge Brian Wimes greenlit the doctoral student's lawsuit this summer, saying there was no evidence that Rowles had done anything more than make his dance fitness instructor, student Annalise Breaux, "uncomfortable" by asking her out in spring 2016.
There's also a racial element to the case: Rowles is black and Breaux is white. Rowles got his four-year suspension halved after he told the taxpayer-funded institution, best known nationally for its racial protests in 2015, that his punishment was "part of a larger pattern and practice" of racial discrimination.
Judge Wimes let Rowles (below) pursue racial discrimination claims against individual officials, saying they should have known that "applying the same disciplinary standards differently to students of different races was unreasonable."
'Could apply to any situation with any man and any woman'
The depositions of Mizzou officials show that they have contrasting and novel definitions of key terms in the university's policies on sexual harassment and stalking "on the basis of sex."
Vice Chancellor of Student Affairs Cathy Scroggs, who resigned from the university after the 2016-2017 school year, said that asking someone on a date more than once counted as an "unwanted sexual advance."
Breaux did not give Rowles a firm "no" the first time, however. She only told him to "stop making romantic advances" after subsequent requests, but encouraged him to keep taking classes at the recreation center. When he kept taking her class, Mizzou accused Rowles of sexually harassing other female rec center employees.
Asked how Rowles used his "power or authority" to sexually harass Breaux – a phrase widely understood to mean instructors asking out students, or superiors asking out subordinates – Scroggs said he used his "physical size."
Asked to clarify that "person of authority" doesn't necessary mean a "teacher or boss," Scroggs replied: "Well, I suppose it could; but in this case, no, I didn't interpret it that way."
Striking deposition from @Mizzou TIX official–male student asking female student for a date (which she didn't want) violated TIX policy b/c male student in position of "power and authority" since he was physically larger. pic.twitter.com/XoJtxfWDmu

— KC Johnson (@kcjohnson9) December 27, 2018
MORE: Scroggs denies calling Mizzou racial listening sessions 'bitch fests'
Andy Hayes (left), who remains assistant vice chancellor for civil rights and Title IX, concurred that "power" isn't tied to an "authority situation." In her deposition, Hayes said: "I think there could be a feeling of that [abuse of 'power'] just by the nature of your gender."
Asked to clarify that she was saying the "power" provision "could apply to any situation with any man and any woman," Hayes responded: "It could."
A different interpretation of Mizzou policy came from Salama Gallimore, who left Mizzou shortly after Scroggs.
The former director of investigations and deputy Title IX coordinator testified that the "power or authority" phrase refers to accused persons with "some sort of evaluative or supervisory capacity" over accusers.
Simply being "physically larger" than someone does "not necessarily" implicate the provision, Gallimore said. Her interpretation is notable because Gallimore who allegedly told Rowles in a previous Title IX investigation that he "looked like someone who might commit sexual assault."
Scroggs and Ellen Eardley, who preceded Hayes in her position, had diametrically different views on two key phrases. Eardley left Mizzou at the same time as Gallimore.
The former assistant vice chancellor not only testified that she had never considered "physical size" as an element of "power or authority," but that "severe or pervasive and objectively hostile" was a two-prong sexual harassment test.
Scroggs, by contrast, said the phrase only required a single prong to be considered sexual harassment: Conduct need only be "severe" or "pervasive" or "objectively hostile."
Gallimore didn't even believe the elements of the phrase "severe or pervasive and objectively hostile" had specific independent meanings.
Behavior that would interfere with a student's educational experience "would be considered severe … would be considered pervasive and likely … would also be considered objectively offensive," she testified.
Hayes also admitted that students couldn't rely on the Title IX office to give them a consistent answer on whether asking someone on a date constituted a "legitimate purpose," a disputed phrase from Mizzou's stalking provision.
Full summary judgment filing in the @Mizzou case–which also alleges racial discrimination in case w/white accuser, black acc'd student–is below.https://t.co/W38BrnLvDN

— KC Johnson (@kcjohnson9) December 27, 2018
There's much more material in the depositions. Read the filing for summary judgment.
MORE: Judge approves lawsuit against Mizzou for date-request punishment
IMAGES: Antonio Guillem/Shutterstock, University of Missouri
Like The College Fix on Facebook / Follow us on Twitter