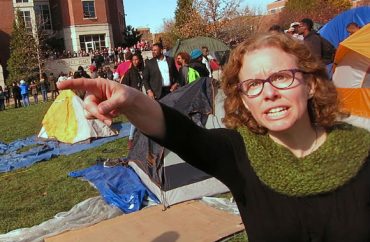 UPDATED
A review of Spike Lee's documentary 2 Fists Up by a reporter who's in it
The race activists who threw the University of Missouri into chaos last fall were after nothing less than "black liberation" and making students feel uncomfortable "until we feel comfortable," they say in a new documentary film.
Produced for ESPN by director Spike Lee, whose projects often focus on black culture, 2 Fists Up: We Gon Be Alright is the first feature-length film about the Mizzou protests. An earlier student-produced film focused specifically on the Mizzou protest group Concerned Student 1950 (CS 1950).
An hourlong cut of the film screened at Mizzou in April. ESPN's version is only 22 minutes long and will air on its digital platforms May 31 and TV network June 3.
Even in the longer cut, 2 Fists Up has surprising omissions. It does not include any of the football players who went on strike – putting Mizzou at risk of a $1 million NCAA fine for forfeiting a game – to force the resignation of System President Tim Wolfe.
RELATED: Missouri bill would revoke sports scholarships from 'striking athletes'
The football team is widely credited with pushing Wolfe over the precipice – not only by the media, but by Mizzou's own interim president in the film.
Lee declined to speak with me on the record at the Mizzou screening. But the film does portray my involvement in covering last fall's protests about as I expected it would.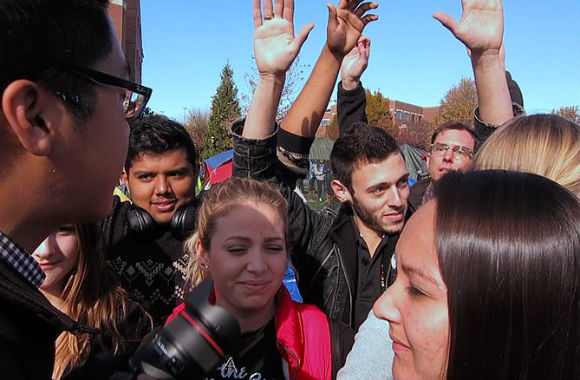 'Are you for black liberation?'
The film starts a year before last November's eight-day hunger strike by a CS 1950 member and the football team's strike, with two of the protest group's original members.
Deshaunya Ware and Storm Ervin, both St. Louis natives, became swept up in the activist scene in Ferguson, Mo., after the August 2014 shooting death of Michael Brown, a black man, by a white police officer and the officer's subsequent acquittal.
RELATED: Mizzou's Melissa Click told police 'get your f**king hand off me' at previous racial protest
Ferguson was like "a civil war in my own country," Ware recalls in the film. "I remember [Ervin] talking to me and saying, '[Ware], this is what we do, this is our life,'" describing one encounter against police at a protest.
"'Are you for this movement? Are you for black liberation?' And from that point on I was like, 'shit, we ready.'"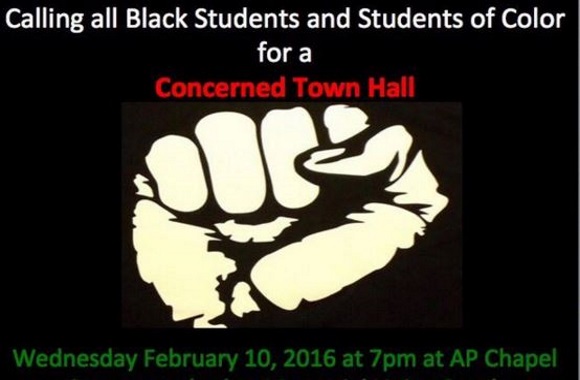 Mizzou's listening sessions in response to the Ferguson protests did not acknowledge the racism that many protesters perceived, and they let the administration know. One told director Lee that Vice Chancellor Cathy Scroggs called them "bitch fests." (Scroggs later told The Fix that this quote attributed to her was "not correct".)
RELATED: College student honored by police after standing with them in Ferguson
Ferguson spawned racial protests movements such as MU for Mike Brown, started by graduates Kailynd Beck and Ashley Bland and senior Naomi Daugherty. The group staged "die-ins" and class walkouts to elevate the "white consciousness."
MU for Mike Brown wanted to teach about "the injustices that are going on outside the world," said Ware, and "translate those to injustices that are actually happening here at this institution."
'Until we feel comfortable, don't expect to feel comfortable' at Mizzou
These other activists' efforts to change the system from the inside took a backseat after Mizzou's student body president claimed he was called the N-word by a group of men in a pickup truck – and confrontational tactics became the norm.
Then-Chancellor R. Bowen Loftin took several days to respond to Payton Head's claim, which had already gone viral on Facebook, irking graduate student and protest leader Danielle Walker.
RELATED: Two student government presidents, two racial slurs, too few details to justify the sweeping narrative
"That's when something just clicked," Walker says in the film. "I was pissed."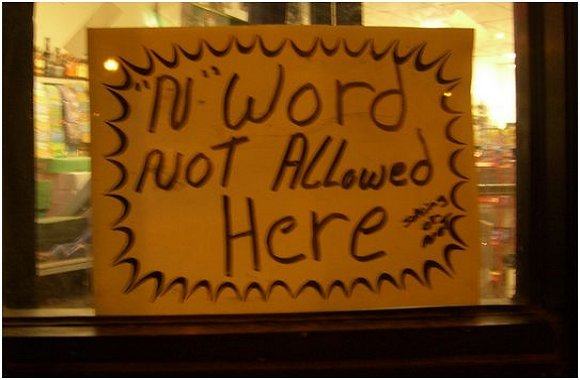 By the second Racism Lives Here protest in October, organized by Walker, Mizzou's racial activists were no longer interested in making allies. They began looking for a confrontation. And a captive audience.
"[T]his was a big deal because we were no longer being regulated [sic] to our safe spaces or being in the Black Culture Center," said Walker. "We was going to continue to disrupt these spaces – spaces where students of color and black students don't feel safe and feel comfortable," such as the study areas in the Student Center.
"Until we feel comfortable, don't expect to feel comfortable in here," Walker declared.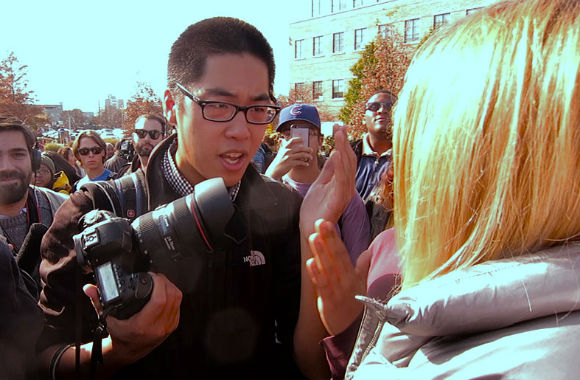 Mizzou's activists stopped participating in die-ins and began planning for revolution. In October the protests took a turn toward confrontation.
RELATED: Missouri white students told not to take part in Ferguson 'die-in' demonstration
"The reason we don't participate in [die-ins] anymore is because we're not dying for anybody," said Ervin, explaining what would become CS 1950's modus operandi. "We're not trying to raise the white consciousness anymore," so they decided to become "a little bit more disruptive."
When it came time to plan CS 1950's first action, Ervin's outreach to about 100 Mizzou activists in a group chat had only yielded 10 responses, most of whom barely knew each other. But the protesters' entrapment of System President Wolfe in his red 1970 Chevrolet Chevelle at Homecoming showed what just a handful of activists could accomplish.
RELATED – VIDEO: Mizzou race activists blast university for hiring more diversity administrators
Spike Lee thinks I'm powerful
Director Lee sets up Communication Prof. Melissa Click, who was fired by the Board of Curators for "interfer[ing] with the rights of others" at two protests, as the film's unlikely hero.
Click tried to physically stop student journalists – myself included – from interviewing protesters at a November protest as students formed a human barrier between the media and organizers. As one local reporter observed in a radio segment, some protesters attacked media and threatened to call police when they didn't leave.
Click concedes in her interview with Lee that "I was not as polite as I should have been" at the November protest.
"How does he get you fired?" Lee asks her, referring to me and the viral video of our interaction that I released.
RELATED – VIDEO: Mizzou's Melissa Click grabbed another journalist's camera at racial protest
"That's an excellent question," Click says. The audience laughed in apparent sympathy with Click following this line.
The protest space on public land was intended for "collecting ourselves," former student senator Delan Ellington says in the film. He also pins the blame on reporters, saying that Mizzou photojournalist Tim Tai was not being "cooperative." Tai was on a freelance photo assignment for ESPN.
"Two Fists Up" tries to justify Melissa Click's actions, especially with the arm slap. Film even paints Tim Tai as an antagonist a little.

— Mark Kim (@MarkJKim_) April 7, 2016
Though Click is best known for her tussle at the November protest, interim President Middleton says a second video showing Click cursing at police officers at the homecoming protest in October may have tipped the balance against her. Middleton says in the film that he supports the curators' decision.
After the screening I introduced myself to Lee as the journalist whose interaction with Click went viral. He also asked how I got Click fired. I told him to ask the Board of Curators.
Middleton was prepared to 'go to court' to stop hunger strike
Though he has maintained that he was not involved in CS 1950's efforts, interim Mizzou President Michael Middleton emerges as a prominent defender of the activists in 2 Fists Up.
Days into his hunger striker, graduate student Jonathan Butler signed a do-not-resuscitate (DNR) order.
RELATED – REPORT: Mizzou hunger-strike student bragged about stealing, mocked women and poor people
The film shows Middleton took personal responsibility for Butler's health – "I spoke to [Butler] almost daily trying to save his life" – and became one of CS 1950's biggest advocates with Wolfe, who "really didn't understand white privilege."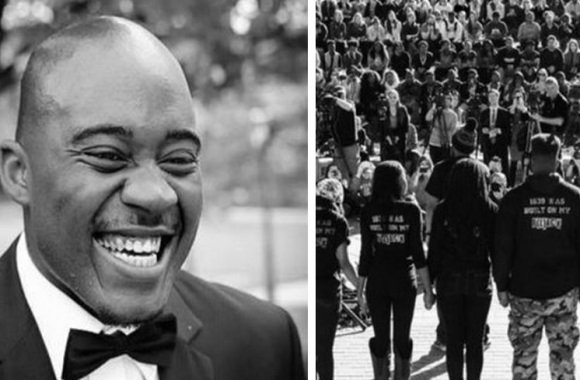 Middleton, who formally retired in August as deputy chancellor but returned after the fall's protests, says in the film that he quit the Marching Mizzou as a student because the band played Dixie at half-time.
"I was not about to let [Butler] die," said Middleton. "I was ready to go to court if I had to and intervene and save his life." Middleton did not immediately respond to an email from The Fix asking if this was legally plausible, given Missouri's liberal DNR law for adults.
Butler says in the film he was aware of Middleton's plans to save his life, but "it wouldn't have worked."
Other than at Mizzou, versions of 2 Fists Up were shown at the Tribeca Film Festival and colleges including Yale University, where racial protests also shook the campus last fall.
UPDATE: Vice Chancellor Cathy Scroggs has denied that she called Mizzou's listening sessions "bitch fests," as claimed by a protester in the film. The article has been amended accordingly.
CORRECTION: The article initially misidentified the person who described the protest as intended for "collecting ourselves." It was former student senator Delan Ellington. The article has been amended accordingly.
RELATED: Melissa Click fired by University of Missouri for harming 'rights of others'
RELATED: Yale master Erika Christakis quits teaching due to climate not 'conducive to civil dialogue'
Like The College Fix on Facebook / Follow us on Twitter
IMAGES: Mark Schierbecker/Wikimedia Commons, Oxalis37/Flickr