Diversity chief says Spike Lee-endorsed protest is 'unfair'
Concerned Student 1950 is wearing down everyone who comes into contact with the University of Missouri racial-protest group—even the hunger-striker who brought it to fame.
Mizzou's new leaders are denouncing the group for a protest it held Monday, joined by film director Spike Lee, against the very diversity program in which the group is participating.
Jonathan Butler, the grad student whose hunger strike prompted the Mizzou football team to go on strike, also announced he's exited the group partly for the sake of his health.
First smart thing he's done all year
Although "The Working Group" racial task force conceived by Mizzou's new diversity chief has met just three times since its February launch, Concerned Student 1950 is writing it off completely.
The group met on campus shortly before noon Monday with director Lee to protest the new committee, but it had trouble finding administrators willing to hear the activists.
They were met with a locked door at interim Chancellor Hank Foley's office on the fourth leg of the Monday protest, according to The Columbia Missourian.
Concerned Student demonstration finds a locked door at Chancellor Hank Foley's office @umsystem @CS_1950 #mizzou pic.twitter.com/xXwlYR60zZ

— Rudi Keller (@CDTCivilWar) March 7, 2016
The protesters were flummoxed by Foley's apparent unwillingness to talk with the group at a moment's notice, even though he hosts weekly "Chats with the Chancellor" that are open to everyone.
RELATED: Black activists' demands are 'against state and federal law,' Mizzou's diversity czar says
"A lot of people don't see that we are trying to reach out, and they shut the door on us all the time," Imani Simmons-Elloie, a member of the group, told Columbia Daily Tribune after the demonstration. "We're the black kids that are crying wolf to everybody else."
Concerned Student 1950 filming with director Spike Lee. The group has made several stops on campus. @CoMissourian pic.twitter.com/E0yrlPsFOx

— Colton Pouncy (@CTPSports) March 7, 2016
The amazing disappearing diversity czar
The protesters also confronted Chuck Henson, the newly appointed interim vice chancellor for inclusion, diversity and equity, outside his office for nearly five minutes before Henson ducked away mid-conversation to take a call.
Concerned Student 1950 had disputed Henson's earlier public claim that the group had not accepted his invitation to meet or collaborate with him. (Henson confirmed Monday he had met with a founding member of the group, but the group had not elected to meet with him collectively.)
On Tuesday Henson released a video statement responding to the group's criticism.
Chuck Henson, Interim VC for Inclusion, Diversity & Equity, says the Working Group is working: https://t.co/CrBGG8dA98

— Mizzou (@Mizzou) March 7, 2016
"The working group is working and the protest that happened on our campus today is unfair and might leave a wrong impression about the amount of progress we have made and the climate on our campus today," said Henson in his Tuesday statement.
Henson accused the protesters of being too quick judge his office's progress.
"We are dealing with issues that took more than 100 years to develop here, and it is certainly going to take more than 100 days and three meetings to address," he said.
Famous film director joins protest
In town to film a documentary about Concerned Student 1950 for his ESPN digital-shorts series, "Spike Lee's Lil' Joints," the award-winning director joined the protest – a decision that immediately generated confusion.
On Saturday, Lee attended the first screening of a 30-minute documentary about the Mizzou protests made by journalism undergraduates at the university. Some of the footage used in the documentary will also find its way into Lee's documentary, according to Indiewire.
Concerned Student 1950's tweets on Monday suggested that Lee had other reasons for visiting the flyover city besides visiting a student film screening.
RELATED: Parents of black hunger striker protesting 'white privilege' own lakeside home worth $1.1 million
One said: "The film of Concerned Student 1950 did NOT bring Spike to Mizzou." Another said: "Spike planned to come to Mizzou when he met @DevaSTating_14 at NAACP Image Awards last month"—referring to one of the group's founding members, DeShaunya Ware.
Those tweets were deleted within minutes of posting, according to The Missourian.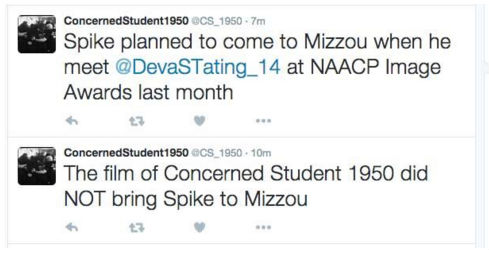 Hunger-striker Jonathan Butler: creating some distance?
Much like Brown University student activists who have complained about the psychological toll of their activism, hunger-striker Butler is sharing his pain and exhaustion.
The son of a railroad tycoon whose stunt led to the November resignation of System President Tim Wolfe, Butler revealed Monday that he hasn't been involved with Concerned Student 1950's leadership for months.
His tweets suggest he was caught off-guard by the group's Monday protest against a process they helped create, and wanted to create some distance.
In light of some information I received about what will be happening on campus today I would like to clear some things up:

— 조나단 버틀러 (@_JonathanButler) March 7, 2016
For several reasons I have chosen to withdraw myself from the group and pursue other forms of activism

— 조나단 버틀러 (@_JonathanButler) March 7, 2016
as well as taking time for self care so I can process the events of the past semester(s) and begin to heal.

— 조나단 버틀러 (@_JonathanButler) March 7, 2016
"For several reasons I have chosen to withdraw myself from the group and pursue other forms of activism," he wrote, "as well as taking time for self care so I can process the events of the past semester(s) and begin to heal."
RELATED: Cue the small violin: Student activists whine about 'strain' of balancing schoolwork, protests
Like The College Fix on Facebook / Follow us on Twitter
IMAGE: Dear White People