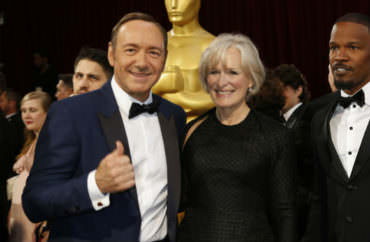 Do you want an internship that exposes you to a ruthless Democratic politician who murders and threatens journalists and has bisexual orgies with his wife and staffers?
The University of Missouri can make it happen!
The beleaguered public university is apologizing to state lawmakers for a poorly timed email to students that compares its internships in the Legislature to the Netflix show "House of Cards."
It stars Kevin Spacey, who is currently facing multiple sexual misconduct allegations from young men stretching back the 1980s and a sexual assault allegation from a former male employee of the show.
The Columbia Daily Tribune reports that the content in the "MU Info" email – titled "Experience the real life House of Cards!" – was also posted to the MU Info website., though it is no longer visible.
Mizzou spokesperson Christian Basi said the Office of Service Learning was simply trying to make a "pop-culture connection for students" and that the headline was "in poor taste." He said officials "have been in contact with several legislators to express our apology and explain."
Lawmakers said the attempt to sound cool was a huge flop:
"I find that comparison a bit insulting, whether they were trying to be controversial or not, that is the way I interpret it," said state Rep. Martha Stevens, D-Columbia. "I get that, especially for the age demographic, they used the reference to get someone's attention." …

State Sen. Caleb Rowden, R-Columbia, who wrote in a text message that he stopped watching the show after the first season because it "got weird and way too dark for me," also wrote that he understands the use of a pop culture reference but that it "probably not the best way to do it."
The Tribune notes that alleged sexual harassment of interns brought down a Democratic state senator and Republican House speaker in 2015.
The makers of "House of Cards" said its next season would be its last soon after actor Anthony Rapp came forward with allegations that Spacey made a sexual move on him when Rapp was 14.
IMAGE: Joe Seer/Shutterstock
Like The College Fix on Facebook / Follow us on Twitter