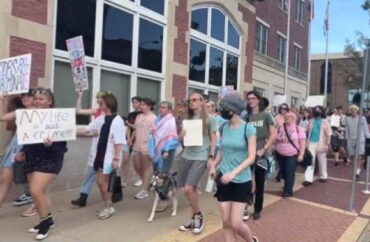 University of Missouri community members recently gathered on campus to protest the school's decision to retract its offering of certain gender-transition treatments, such as cross-sex hormones or puberty blockers.
The Mizzou Young Democratic Socialists of America hosted the Sept. 15 protest with the theme "Keep Hate Out of Healthcare."
"MU Health Care is stripping so many transgender Missourians of their access to life-saving gender-affirming treatment, and we will not let them do so quietly," the group posted on Instagram.
Students, staff and local community members met on campus, then marched to Columbia City Hall with signs and chants.
"No hate, no fear — trans kids are welcome here," protestors chanted, footage shows.
Protesters are chanting at the Columbia City Hall, as they march back to Jesse Hall on MU's campus. @KOMUnews pic.twitter.com/qhbeUZYe9G

— Avery Grosvenor (@averyseantv) September 15, 2023
As previously reported by The College Fix, the state of Missouri passed legislation that prohibits doctors from administering hormones or puberty blockers to minors not already receiving it.
The law went into effect on Aug. 28. However, MU Health Care decided to halt all treatment to minors, whether it's been previously received or not, citing "significant legal liability."
"Health care providers face significant legal liability for prescribing or administering cross-sex hormones or puberty-blockings drugs to existing minor patients under the new cause of action," the statement said. "MU Health Care providers may continue to provide other types of gender affirming care that is not impacted by the law."
Mel Tuly, chair of Mizzou Young Democratic Socialists of America, told KOMU News that she hopes the protest forces the university to see "all of the pressure we're putting on them" and "all of the people that care about this and want to say something."
Despite the protest, Mizzou appears to be set on its decision, telling KOMU News it is based on the enacted legislation.
"We were able to do a thorough review of the law and determined that there are specific aspects of the law that create significant liability for us to continue the care that we were doing," MU spokesperson Christian Basi said, claiming the school can be hit with $500,000 in damages if a patient chooses to file a lawsuit.
The University of Missouri isn't alone in defending its position.
The Mizzou College Republicans publicly agreed with the termination of hormone and puberty blocker distribution to minors.
"'Gender affirming care' can often have disastrous and irreversible effects for the patients who undergo it and, in some cases, leads to infertility," the statement reads in part.
Therefore, the Mizzou College Republicans wrote, the group applauds the university and the UM Health System's decision "to comply with the law and hope they can stand up to the pressure they are going to face to break it."
Washington University in St. Louis, another institution in Missouri, also took a stance to prevent minors from taking part in hormone therapy and puberty blockers, as previously reported by The College Fix.
In a Sept. 11 statement, the school announced its decision to abide by the new law.
"Patients who are currently receiving this care through the Washington University Transgender Center at St. Louis Children's Hospital will be referred to other providers for these services," it stated.
The College Fix reached out to the Mizzou Young Democratic Socialists of America and the Mizzou College Republicans for comment, both of which declined to provide comment outside of their previously published statements.
MU Health Care and the University of Missouri did not respond to requests for comment.
MORE: Citing liability issues, Missouri university stops giving minors transgender treatments
IMAGE: X screenshot
Like The College Fix on Facebook / Follow us on Twitter