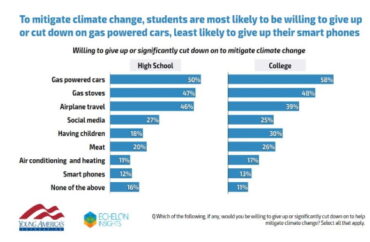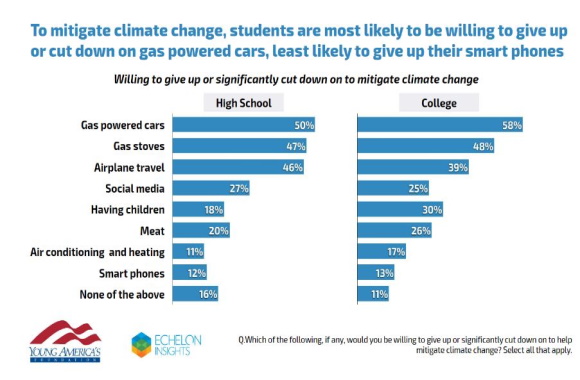 Fewer than 1 in 5 would give up their smartphone to mitigate climate change, YAF poll found
Two thirds of college students believe climate change is an "existential threat" to their generation, but fewer than one in five are willing to give up their smartphones to help, a recent poll found.
More college students would sacrifice having children and eating meat before giving up their cellphones, according to a poll published Aug. 13 from the Young America's Foundation.
The survey, facilitated by Echelon Insights, asked 812 college students in mid-July about a wide variety of topics, including environmental issues, politics, President Joe Biden, the economy and student loan forgiveness.
According to the poll, 86 percent believe climate change is happening, and two thirds, 67 percent, believe it is an "existential threat" for their generation.
But when asked what they are willing to give up or significantly cut down on to "help mitigate climate change," only one in five — or 13 percent — chose their smartphones.
Anthony Watts, senior fellow for environment and climate at the Heartland Institute, said the results did not surprise him.
"Those who think climate change is an 'existential crisis' have unfortunately been brainwashed, perhaps by media on the very cellphone they refuse to give up," Watts told The College Fix via email.
He said giving up a smartphone – "essentially a visual stimulation drug" – is like trying to end a drug addiction, and it isn't surprising that students are more willing to sacrifice almost anything else.
More students chose to forgo having children, 30 percent, and eating meat, 26 percent, than cellphones, according to the results.
Additionally, 58 percent said they would sacrifice gas-powered cars and gas stoves, 48 percent, followed by air travel at 39 percent. Meanwhile, 11 percent said they are not willing to give up any of the options.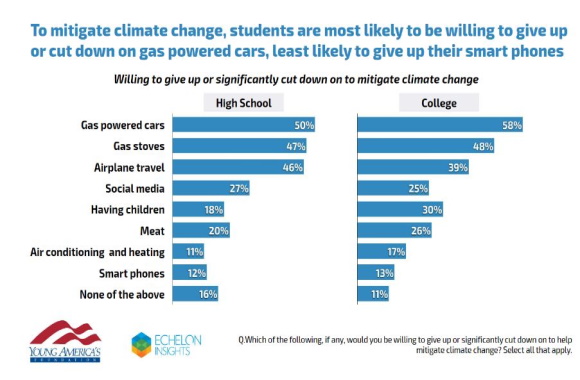 Steven Mosher, president of the Population Research Institute, told The College Fix students actually would make a "much greater" crisis worse in their attempt to mitigate an "imaginary" one.
Mosher said many countries already face an impending demographic collapse due to declining childbirth rates.
"Not only will the future lack of children harm society, economy and culture, as it already is around the globe, but it will negatively affect these students' own lives," he said via email. "The end result will be a lot of sad, lonely people who have never had any children. They will realize too late that they did not provide for the future in the most fundamental way, by having children and grandchildren.'"
Watts agreed there is no climate change crisis, and students are being misled.
For example, another poll question about fossil fuels found 54 percent believe society will run out within their lifetime if consumption continues at the current rate, while 23 percent were unsure and 23 percent disagreed.
"We do not live in an actual time of crisis, because we humans are adaptable and have been so through millennia as the climate changed," Watts told The Fix. "While the media would have you believe that our present human situation is worse, we actually live in a golden age of health and prosperity compared to previous generations."
He encouraged skeptics to read the research and data published at the website Climateataglance.com.
Along with environmental issues, the poll found students also are concerned about the economy, school safety and gun policies.
Michael McGonigle, director of public relations at Young America's Foundation, told The College Fix young adults care deeply about a number of issues, with the economy being their No. 1 concern.
"Gen Z doesn't have it easy – from high living costs and low paying jobs, to concerns about their safety at school," McGonigle said via email. "There are countless things competing for their attention every second of the day and trying to decide which crisis to care about can be overwhelming. When you consider all that, I'm not surprised young people aren't thinking about having kids."
He said he encourages people to listen to students' concerns so "we can get to a place where they feel secure enough to do so."
The survey, which also polled high school students, found gun policies and school safety are their second and third most concerning issues, respectively.
Asking about college debt, the poll found more than six in 10 college students, 67 percent, support the government canceling all student loans. However, a strong majority, 58 percent, said taxpayers who did not attend college should not be forced to help pay.
Another seven in 10 said the government should create a maximum limit on college tuition.
On President Biden's leadership, the poll found a significant decline in college students' approval compared to 2021. More than half, 51 percent, said they disapprove of Biden's job as president, up from 28 percent in 2021. Meanwhile, 38 percent said they approve of the president's actions, down from 62 percent in 2021.
Additionally, 47 percent of college students said they believe Biden is not mentally fit enough to be president, and 27 percent said they believe he is.
MORE: EPA funnels $177,000,000 into new higher ed 'environmental justice' centers, nonprofits
IMAGE: Young America's Foundation
Like The College Fix on Facebook / Follow us on Twitter