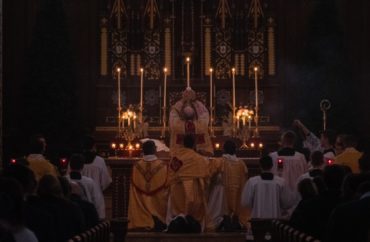 'It is incredibly beautiful'
The University of Nebraska Lincoln's Newman Center celebrated another successful Rorate Caeli Mass this past Saturday. Bishop James Conley of the Diocese of Lincoln celebrated the Mass for hundreds of students and community members.
The Advent Mass is said in Latin and only candles are used to light the church.
"It's incredibly beautiful," UNL student organizer Max Doty told The College Fix in a phone interview prior to the Mass. "It will be a very intense experience walking into a church that's mostly dark and the essential areas are lit up."
He explained that the name comes from the opening Introit reading — "Rorate Caeli desuper," which translates to "drop down the dews from Heaven."
Bishop Conley's presence made this Mass even more special, since it was a Pontifical Solemn High Rorate Mass. This means a bishop presides at it. (Video below is of the Mass at a different church).
The logistics included "90 to 100 candles" Doty said. There's also two deacons assigned to assist the bishop alone as well as an assistant priest and acolytes.
Doty has been involved with the Rorate Mass at the Newman Center since he began serving at it several years ago.
Most of the attendees were his peers at the public Nebraska university, but others come from the University of Nebraska Omaha. Others come from Kansas or are parishioners at local churches.
He said the use of candlelight only improves the experience of the Mass, because no one can read the readings in their missal or on their phone. Instead, the lack of light forces the attendees to focus only on the Mass.
Among the temptations that college provides, the Mass aids these students in pursuing what is just and righteous.
"As can be evidenced from previous years, this Mass has proven to be a wellspring of inspiration for students amidst the spiritual battles of young adulthood and the university scene," Doty previously wrote in traditional Catholic publication OnePeterFive.
MORE: Penn State Latin Mass group finds comfort and thrives
IMAGE: Max Doty
Like The College Fix on Facebook / Follow us on Twitter