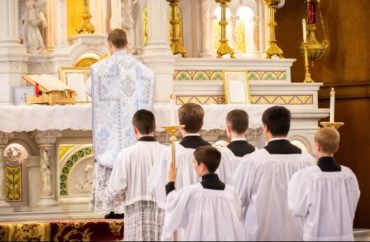 An unofficial student group at Penn State University organizes around 25 students to attend church every Sunday. The students aren't just going to a local church though — they sometimes travel five hours round-trip to attend Mass.
The Penn State Latin Mass Society emerged this August and is led by a pair of students, Victor Fuentes and Vince Birch.
The students attend a variety of churches, including one in Scranton, which is over two and a half hours away and requires a 7 a.m. departure time. They travel this far to attend the less common Traditional Latin Mass, which had been the norm until 1962 when the Catholic Church expanded the ability of priests to offer Mass in the vernacular.
The Mass is said in Latin with the priest facing the altar instead of facing the people. It generally involves more bells and incense than a typical Catholic Mass said in English.
"On a regular basis we probably have in the neighborhood of 25 kids as of fall. Now that number has been gradually increasing as the semester goes along," Fuentes, president of the Latin Mass group, told The College Fix via a Zoom interview. "But that consistent amount is representative of a lot more of others that come in spurts. We've probably had at least 30 to 35 come at different times."
Coronavirus lockdowns restricted access to Mass and challenged people's faith. The student leaders said that church has been a source of strength and unity for some of the students on campus.
"Really in a time where faith isn't being focused on in school, the Latin Mass Society has proven to be a strong vehicle for bringing together Catholics and different people across campus," Birch said.
Birch is the group's vice president and majors in statistics.
"I know in my major I cannot connect with too many people, but through this I've been able to connect and grow with people in our shared faith," he said.
Birch talked about how the sense of community in the group helps students grow in faith.
"Ever since churches started reopening, since then I've gone to a Latin Mass every Sunday," Birch said. "It's really helped me incorporate prayer into my daily life, including saying the Rosary daily and undertaking acts of penance."
The society plans to discuss several books over Christmas break as a way to stay connected.
Fuentes has previously written about other plans for the group.
"We plan on holding a retreat, led by local diocesan clergy who celebrate the Latin Mass," he wrote in Catholic publication OnePeterFive.
"Our club continues to grow. It is not unlikely that we have 40 or more students come to the Latin Mass by the end of the spring semester," he predicted.
MORE: College students grow in their faith at campus Catholic Newman Centers
IMAGE: Matt Lamb/The College Fix
Like The College Fix on Facebook / Follow us on Twitter