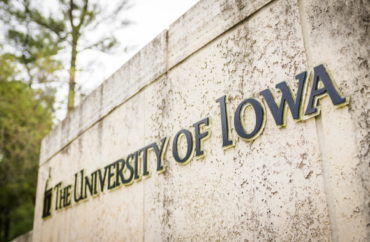 More than $55,000 has been directed over the last year to train University of Iowa students and campus employees on restorative justice philosophies and procedures, according to documents recently obtained by The College Fix.
The spending comes as the public university seeks to implement restorative justice practices to deal with student conduct issues in the wake of George Floyd's death at the hands of police in May 2020 and the racial protests that followed.
The program will formally begin this fall after residence education staff are trained, Angela Ibrahim-Olin, assistant dean and director of student accountability at University of Iowa, told The College Fix via email.
It will be "one of the possible pathways available to students to resolve their cases with the Office of Student Accountability," she said.
"Restorative practices can be used in individual meetings with students alleged to have violated university policies, but also for situations involving others where there is more tangible harm to be repaired (damage, theft, conflict, etc)," she said.
The effort to embed restorative justice practices stems from recommendations from the Reimagining Campus Safety Action Committee's recommendations.
"The committee's formation was precipitated by national protests about the murder of George Floyd and after local law enforcement used tear gas and flash grenades to prohibit Black Lives Matter protesters in Iowa City from gaining access to I-80," the committee's final report stated.
Instead of agreeing to calls to defund the police, the university's approach "was more deliberative," it stated. The committee's recommendations, released in 2021, included to:
Outline models for restorative justice that can be used to repair harm and restore the campus community, and train key faculty, staff, and students on campus to serve as facilitators.

Pilot restorative justice practices within student conduct (Division of Student Life) and use the data to identify other potential areas for use.
To date, university members have taken several steps to implement those recommendations at a cost of at least $55,000, according to invoices and other documents recently obtained by The College Fix through a public records act request.
The funding has paid for various trainings, conferences and workshops.
The student government's "contingency fund" helped shoulder that cost by $35,000, the Iowa Daily student newspaper reported in December.
Dozens of employees within the university's Office of Student Accountability, Student Care and Assistance, Harm Reduction Programs, Department of Public Safety, Threat Assessment Team, and the Office of Institutional Equity have received restorative justice training.
"Staff have incorporated restorative practices into their respective work responsibilities," Ibrahim-Olin told The Fix. "Many have indicated that it has been a helpful way to frame harmful incidents, ways to address harm, and help individuals understand how they can rebuild trust after situations occur."
According to the student government resolution to fund the training, restorative justice allows for all parties involved — the victim, offender and community — to "process how the harm can be restored."
"This practice is driven by inclusive decision-making, active accountability, repairing harm, and rebuilding trust," it stated. "Restorative justice allows for a greater sense of ownership of the problem and participation in its solution, resulting in a stronger sense of community and individual empowerment."
MORE: 'Restorative justice': Whites, conservatives, police need not apply
IMAGE: University of College / Shutterstock
Like The College Fix on Facebook / Follow us on Twitter