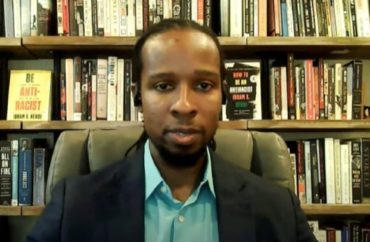 Part of series on removing 'barriers of power and privilege'
Boston University Professor Ibram Kendi recently spoke on a webinar at Stanford University where he declared "most organizations and institutions are racist."
It came in response to a question by the webinar's host who asked Kendi to describe how companies, institutions and universities could take steps in order to create an anti-racist environment.
"How do I know that ? Because if you have racial disparity and inequity then you have race, you know you have racism, you have policies that are leading to those racial inequities and injustices," Kendi said. It's a key argument in his book titled "How to be an Antiracist."
Kendi argued that an organization should "ensure that they are collecting and understanding and analyzing racial data so they can see those disparities and inequities."
The arguments from Kendi came during an October 18 event titled: How to be an Anti-Racist as part of the Women's Leadership Lab's webinar series. The series is titled: Moving Allyship from Talk to Action: Addressing the Barriers of Power & Privilege. The full webinar can be viewed on YouTube, though the school said it will remove the presentation on November 20.
The presentation featured Shelley Correll, a Stanford sociology professor, and Allyson Hobbs, a professor of history and African-American studies at the private university in California.
The webinar sought to discuss the "role of allyship in promoting social and organizational change," as well as exploring how companies are grappling with the question of how to productively engage in allyship efforts.
MORE: Ibram Kendi's research center banked big money, delivered little
Correll began the discussion by asking Kendi to explain what he means when he says "antiracism" and how that is different from being "not racist."
"Sure, so antiracism is essentially systemic. It's creating a sort of powerful collection of policies that are leading to and maintaining racial equity and justice and are substantiated by ideas of racial equality," he said.
Kendi went on to say that people who "do nothing in the face of the status quo of hierarchy and inequality" allow the system to persist. He argued that the system can only be "actively challenged" in order to create a system of anti-racism and thereby to be anti-racist.
'Heartbeat of being anti-racist is confession'
Hobbs asked Kendi to discuss why he thinks anti-racism requires confession, as well as why staying "neutral" or being "not racist" is not enough.
"So in many ways, we are literally taught to grow up in this country is to be taught not only to be racist but then to deny that one is racist. It's literally to have racist ideas constantly being poured on your head and then also being told that you're dry," Kendi said.
According to Kendi, the "heartbeat of being anti-racist is confession, the heartbeat of being racist is denial."
He went on to say that people now are "engaging in supporting mass incarceration, mass deporting, mass impoverishing, mass dispossessing policies, and they're saying that they're what, 'not racist,' and their policies are 'not racist' and their ideas justifying those policies are 'not racist?'"
Kendi was then asked the kind of actions that "everyday" people can take on in order to create a more equitable society.
MORE: Temple devotes more than $1 million for anti-racism center, hiring African American studies faculty
"I think as, you know, our scholarship as those of us who study racism, we have done an incredibly effective job at demonstrating that racism is primarily structural and systemic," he said.
Another reason Kendi gave was that people "haven't done enough" as individuals to interact and realize that there is a "structural problem."
Corell argued that there is currently a "fatigue on black lives matter."
She asked Kendi to explain 1) "How to stop this from happening?" and 2) "How do we continue to keep this understanding of the systemic nature of racism at the top of mind for Americans, what should we be doing so we don't lose this moment we're in to really drive change?"
Kendi said:
So I think it's important first for us to really understand why you have that shift. And it wasn't by happenstance, what actually happened really beginning in June and really accelerated in July and August was this very concerted propaganda effort to make Americans believe that the problem actually are those quote 'violent anarchists,' demonstrators in the streets, not racism.
Kendi went on to argue that the media played a role in pushing the narrative that the protests were non-peaceful because they only showed "every single violent protest."
"A study recently came out that found that out of the roughly 7,000 demonstrations in all 50 states from late May to late August, 93 percent of them were peaceful. And then out of the remaining 7 percent that turned violent, the majority of those were clashes between police, and [in] many of those cases the police instigated the violence," Kendi said.
According to Kendi, there is a "concerted, targeted, and organized effort" to attack black activism and advancement.
"That combined with those very same forces going after 1619 Project, going after critical race theory, going after really scholars on college campuses who are writing about black lives. And we've been attacked, you know, incredibly. That's why this is happening, this isn't by happenstance."
Kendi also said he wants the focus on "the victims" not on himself.
MORE: Penn State announces $1 million in research grants to address 'systemic racism'
IMAGE: Women's Leadership Lab at Stanford University/YouTube
Like The College Fix on Facebook / Follow us on Twitter