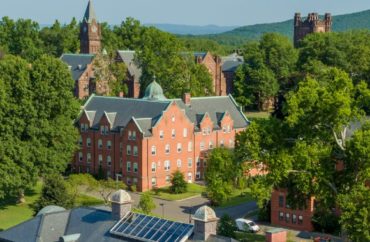 Two months later, no one will share details
Officials at Mount Holyoke College in Massachusetts remain largely silent nearly two months after they launched an investigation after someone reported finding a swastika written in black marker on a bathroom tile.
The university statement on the graffiti did not include any photos.
The university told the campus community two months ago on December 10 that it believed one individual was responsible for that swastika and two others allegedly found that semester.
But a campus spokesperson told The College Fix, after multiple requests for comment and a copy of police reports, that she could not share any updates
"Due to the gravity of these acts, we need to continue the investigation in confidence and so must refrain from sharing the details of the inquiry until or unless there is new information that we can report more publicly," Christian Feuerstein, director of news and media relations, told the The Fix via email on February 4.
Raymond LaBarre, the director of public safety and service, has also not responded to two requests for further information sent in the past three weeks.
His law enforcement counterpart in the city of South Hadley has remained similarly quiet. Chief of Police Jennifer Gundersen did not respond to two email requests for comment that asked for an update and copies of the police reports.
MORE: Check out the campus cancel culture database
But the university identified a suspect by December 10.
The university's top official also told the community it knew the purpose behind the bathroom graffiti.
"Based on all of the information that we have available to us, we believe that these incidents are the acts of an individual Mount Holyoke student who is living on campus," President Sonya Stephens said on December 10. "We find abhorrent, and take extremely seriously, such acts of hatred against fellow members of our community."
She also said that she knew what the unidentified suspect aimed to accomplish with the swastikas. "The association of the specific drawings found were intended to convey the genocidal legacy of the Nazi regime, antisemitism, hate and white supremacy — none of these have any place at Mount Holyoke or in the many international communities of which we are so much a part."
"Whether these actions are the result of an embedded white supremacist on campus or some other motivation," Stephens said, "we genuinely seek to understand and purposefully address these acts with any individual involved so that they end immediately."
MORE: American University closes investigation into bathroom swastika
IMAGE: Mount Holyoke
Like The College Fix on Facebook / Follow us on Twitter