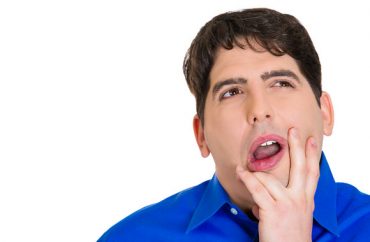 In this politically "polarized-more-than-ever" era, one might think being a moderate — or centrist, if you will — would be something of a badge of honor.
Not a chance, says Chapman University's Matthew Q. Joy — it's actually a privilege akin to that best known of all privileges, "white privilege."
And the reason it's a privilege is because the Republican Party has become so conservative as to make "recognizing opposing viewpoints and reaching compromises" impossible.
Oh. Of course!
In an op-ed in the student paper The Panther, Joy chides even President Barack Obama for utilizing his centrist privilege; instead of keeping his promise of universal healthcare, he dared to compromise with Congressional Republicans on his landmark legislation … which left millions still uninsured.
Obama "never faced significant backlash for this," Joy says, and "society lauded him a liberal icon."
In addition, during last year's presidential campaign, Hillary Clinton balked at emulating Bernie Sanders' call for a $15-per-hour minimum wage, instead opting for $12 … which "still wouldn't allow any minimum wage worker to afford rent." Yet, she too was was lauded as a "Democratic hero" and "allowed to mask herself as a progressive."
Many heavy centrists seem averse to the idea of tuition-free public colleges and universities, but the U.S. doesn't lack the means, as it has the world's most bloated military budget. Still, centrists use tepid language and emphasize a need to be "realistic" when discussing the student debt crisis. Imagining a world in which public high school graduates are saddled with as much debt as public college graduates displays how much economic discrimination indebted students face for pursuing an education. The same figures who are applauded for their views on gay marriage and women's rights are allowed to hold an anti-student position. This is just as horrendous as if they had reversed their stance on the aforementioned issues, with no consequence.

If it is socially unacceptable to be against abortion rights for women, civil rights for racial minorities and equal rights for the LGBTQIA+ community, it should be just as unacceptable to oppose providing healthcare to the uninsured, a living wage for the working poor and education for those subjected to the student loan crisis. In many cases, the minorities who are discriminated against by conservatives are the same people who suffer most from an economic system that isn't being questioned by centrists.
"Centrism is as vile as right-wing conservatism," Joy adds, "but it contains the additional atrocity of having no social consequences for holding views that leave fellow Americans at a disadvantage." The only time liberals should support centrism is when the sole alternative is right-wing conservatism.
"Just as progressives denounce white privilege," Joy concludes, "it is time to denounce centrist privilege."
Given that the usual taunts of "racism," "sexism," "homophobia," and, of course, "white privilege" didn't do much, if anything, to turn people away from Donald Trump and other Republicans last year (in fact, such arguably helped GOP candidates), it would not be very wise to tick off political moderates when progressive Democrats need them more than ever.
MORE: Univ. event that has students make 'privilege beads' bracelets
MORE: Extra credit given for determining level of 'white privilege'
IMAGE: pathdoc/Shutterstock.com
Like The College Fix on Facebook / Follow us on Twitter