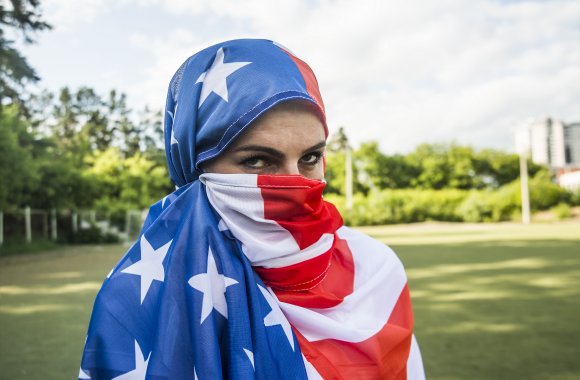 Duke University alumna Ibtihaj Muhammad, a member of the United States women's Olympic fencing team in 2016, has a new book out in which she details a rough experience at the university.
Muhammad says she her acceptance to Duke "was met with condescension" and the belief that she only got in to the school due to her race. She claims she routinely experienced microaggressions as a member of the school fencing team, and it ultimately led to her quitting the team.
According to The Chronicle, "though she had doubts about moving to the South" Muhammad chose Duke due to the generous financial package it offered.
"I was a little bit hesitant to cross [the Mason-Dixon line] as an African-American hijabi," she says. "I didn't know what kind of welcome I'd receive in North Carolina, but I figured on Duke's campus I'd be in a safe environment where I would surely be able to find my 'people.'"
But, Muhammad continues, despite being a top-notch athlete, her fencing team peers "didn't seem interested" in getting to know her … leading to feelings of not be accepted.
She also describes Duke as "overwhelmingly white," despite Caucasians comprising just 50 percent of the university's student body.
"If the only problems on the fencing team were about certain girls not wanting to be my friends, I wouldn't have minded that much, but the real issues at play were laced with racial undertones," she said. "My friend Josh and I were the only Black fencers on Duke's team, and we both were on the receiving end of endless numbers of 'harmless jokes' and offhand comments that permeated our team culture."

Recalling being asked whether she and her friend like fried chicken and watermelon for dinner, Muhammad even lambasted her former teammates for their lack of originality with their racism.

She described feeling "like an outsider." Along with her friend, Muhammad eventually left the team her senior year because of the micro-aggressions, as well as the struggle of maintaining the balance of athletics, school work and a social life.

"When I thought about fencing at Duke, my stomach clenched, and a wave of dread passed over me. I curled my toes in the sand. I closed my eyes and tried to imagine my life at Duke without fencing," she wrote. "I had my own dreams to pursue, and making Duke's fencing team a more inclusive space wasn't one of them."
Muhammad says she found with the campus Muslim Student Association what she couldn't get elsewhere at Duke: "It wasn't about what other people could bring to my life, it was what I wanted for myself. And what I wanted was a Muslim community that I could pray with and also have fun with."
She adds that by the time she graduated, she felt "confident and comfortable" with who she was, and credited the school for a great education.
MORE: Muslim Olympian should have carried American flag because Trump
IMAGE: Shutterstock.com
Like The College Fix on Facebook / Follow us on Twitter