Georgetown law professor decries 'Morehouse Man' mentality
Morehouse College, the only all-male historically black college or university in the United States, promotes a "Morehouse Man" ideology based on ideals such as "acuity, integrity and agency."
This motto has produced civil rights leaders Martin Luther King Jr. and Howard Thurman, director Spike Lee, actor Samuel L. Jackson, and business-leader-turned-politician Herman Cain, among many other notable alumni from the 152-year-old, Atlanta institution.
But to one professor, the Morehouse Man is actually a "toxic idea."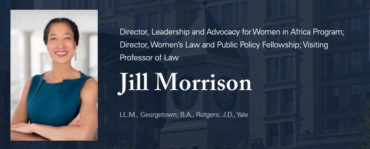 So says Georgetown University Law Professor Jill Morrison in a speech on campus last week as part of the Georgetown Women and Gender Studies Program's "Gender+Justice Annual Faculty Research Colloquium."
Professor Jill Morrison argued that the standards at Morehouse College create an "exceptionally toxic environment for those who do not conform to the ideal for black masculinity."
Her presentation focused on Title IX discrimination of single-sex HBCUs in their transgender policies. During her speech, she spent time criticizing Morehouse College as a hotbed of toxic masculinity.
Morrison quoted an alumnus of the college who claimed the Morehouse Man ideal "…represents the perfect storm of homophobia, racial and class anxieties of exceptional negroes, masculine gender trouble, class conflict and fundamentalist religious baggage, or as some might say, 'heritage or tradition.'"
Morrison's comments came despite the fact that Morehouse has agreed to begin admitting transgender men, or biological women who identify as men, next year.
"Most troubling," she said, is that "if a student transitions from a man to a woman or identifies as a woman, that student will no longer be eligible to matriculate at Morehouse and graduate."
In contrast, Morrison reported that the historic, all-female Spelman College — Morehouse's sister school — decided to accept trans women and let attending women who transition to men graduate.
However, she said, Spelman must go further, citing a necessity for "more gender inclusive housing and bathrooms" at the all-women's college. Meanwhile, the first-ever "male" Spelman graduate in 2017 complained of a "lack of understanding of the non-binary on campus and backlash from those who questioned his place at an all-women's college," she said.
In spring 2019, prior to Morehouse's decision to admit trans men, Morrison published a research project titled "Redefining the 'Morehouse Man': Sexual Orientation and Gender Identity at Morehouse College in the Wake of Spelman's Decision to Accept Transwomen" in the Journal of Gender, Race & Justice.
It argued that "although Title IX allows for single-sex colleges to discriminate on the basis of sex, this exemption should be read narrowly to require Morehouse to accept transmen."
It also reviewed "Morehouse's record of being hostile to those who identify as gay and/or gender non-conforming, and its legal obligations to these students."
Meanwhile, at the colloquium, Morrison had high praise for one institution. She noted the crown jewel of her research was Mount Holyoke College, a women's college in Massachusetts, which accepts every gender identity except those born male who identify as male.
"The mission of women's colleges is not diminished by the presence of anyone who supports that mission, regardless of their gender identity," she said.
The only counterpoint Morrison briefly considered is that "trans women" — or biological men who identify as women — "have received the benefits of having been male most of their lives," and "trans men are the current beneficiaries of male privilege and might change the women's college environment by asserting that privilege."
Additional discussions at the colloquium, held Oct. 25, included "The Discomfiting Truth About White Feminism: Meryl Streep, Amy Poehler & the Movement's Long History of Racial Insensitivity" and "The Crucible of Sexual Violence: Militarized Masculinities and the Abjection of Life in Post-Crisis, Neoliberal South Korea."
The views in this article do not represent those of the Department of Defense or the United States Army.
MORE: Sign targeting 'masculine black men' generates controversy
IMAGES: YouTube, Georgetown.edu screenshots
Like The College Fix on Facebook / Follow us on Twitter