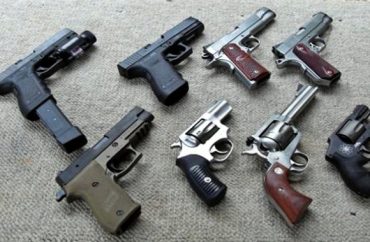 A petition and Twitter account have gone viral over the last few days in response to the Parkland, Florida school shootings.
The former, on Change.org, has at present almost reached its goal of 35,000 signatures. It's calling on high school students across the country to walk out of class (and school) on April 20, the anniversary of the Columbine school massacre.
"We are the students, we are the victims, we are change, fight gun violence now!" the petition reads. "High School students across the U.S.A, the way to fight back is here. There has been too much complacency on the part of politicians when it comes to gun violence. The time to act is now!"
It notes that President Trump "has not addressed any form of gun legislation" and that "the government does not hear or care how these tragedies affect [kids'] lives."
The Twitter account National School Walkout already has over 50,000 followers and gets a bit more specific: The April 20 walkout will occur at 10am. It also was featured as a "Twitter Moment" on Saturday which, as you'd expect, was hyped by mainstream media types:
I think it would send a powerful, disruptive message if all teachers in America staged a strike until Congress passed legislation to help keep them and their students (and the rest of us) safe. A bill would be passed within a month! #StrikeForLife @UFT @AFTunion @NEAToday

— Charles M. Blow (@CharlesMBlow) February 15, 2018
There are multiple school walkouts now planned in response to Parkland and America's numerous mass shootings. https://t.co/tQ9a8u9VEa

— Phil McCausland (@PhilMcCausland) February 17, 2018
I'm telling you these kids are our hope. The walk out will be staged on the anniversary of columbine. https://t.co/oT8vlzTCJp

— Dana Wright (@RadioDana) February 17, 2018
Spread the word. These kids will make a difference. It's powerful. https://t.co/IqJOngDoG0

— Jenna Fischer (@jennafischer) February 17, 2018
Ms. Fischer, you may recall, had tweeted out erroneous information about the teacher tax deduction during the tax bill debate, doubled down when called out on it, and eventually was forced to apologize.
The Women's March Twitter account announced its own plan for a walkout on March 14:
Enough is enough!

Women's March Youth EMPOWER is calling for students, teachers, and allies to take part in a #NationalSchoolWalkout for 17 minutes at 10am on March 14, 2018. Join us in saying #ENOUGH!https://t.co/8ZE8uthRlZ pic.twitter.com/45yCZl4zDm

— Women's March (@womensmarch) February 16, 2018
The Change.org petition states that "Seven children and teens are killed with guns in the U.S. on an average day (https://everytownresearch.org). The violence of guns is being performed in our schools and our communities. Not the Senate floor. As the future of America, it is time for teenagers to speak their minds and put their frustration into action."
Perhaps that's because the US Senate is protected by guards with … guns?
However, it's a good bet that solution would not be acceptable to activists.
MORE: Progressives' cognitive dissonance on the Second Amendment
MORE: OSU leaders silent after pro-Second Amendment student murdered
IMAGE: Joshuashearn/Wikimedia Commons
Like The College Fix on Facebook / Follow us on Twitter