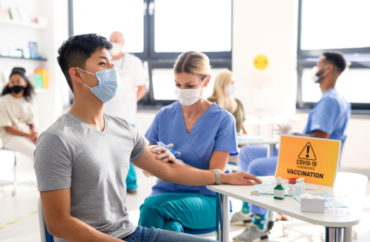 'Perhaps it is some combination of virtue signaling, rampant neuroticism of administrators and faculty members, and just authoritarian control,' one professor said
Nearly 100 universities across the United States continue to mandate COVID vaccinations despite persisting concerns about the side effects and overall effectiveness of the vaccines as well as the ethics of such mandates.
Harvard, Johns Hopkins and Rutgers universities are among the 100 colleges that require COVID vaccine shots for their students to promote campus health, as reported by No College Mandates, a group critical of the requirements.
"There are 97 colleges holding tight to student COVID vaccine mandates for fall (some mandates are for athletes and residential students only)," the group posted on X on Aug. 9.
The organization maintains a database listing more than 1,200 colleges and universities and whether they continue to require the shot. A large chunk of the institutions still requiring the vaccine are located in California, according to the spreadsheet.
Most campuses that still require the shot argue on their websites it's to promote campus health.
For example, Harvard requires all students on campus "to have primary vaccination for COVID-19," its website states, adding it's required to maintain "the high levels of vaccination needed to protect our community."
There are 97 colleges holding tight to student COVID vaccine mandates for fall (some mandates are for athletes and residential students only). Visit our Website to view the full policies. pic.twitter.com/4fvzeAtbnn

— No College Mandates (@NCM4Ever) August 9, 2023
But Todd Zywicki, a professor at George Mason University's Antonin Scalia Law School, described the continuation of COVID vaccine mandates at these colleges as "insane."
"It is clear that the harm to young people from Covid vaccines far exceeds any benefit they might get," Zywicki said in an email to The College Fix.
Zywicki, who had natural immunity due to a bout with COVID, had sued his employer over the mandate in 2021 and was given an exemption.
Recent research has revealed side effects associated with COVID vaccines, including an increased risk of heart inflammation in young men, as highlighted by Dr. Marty Makary, a distinguished professor at Johns Hopkins School of Medicine.
Makary pointed to a study conducted by Cedars Sinai, which documented a 30 percent rise in heart attack fatalities among adults aged 25 to 44 during the initial two years of the COVID pandemic. While some have attributed the uptick to the virus itself, Makary said vaccination could be the culprit, noting that "we did not see the uptick before the vaccine was rolled out."
Dr. Harvey Risch, professor emeritus of epidemiology at Yale School of Public Health, told The College Fix that "these schools are now putting themselves in possible legal jeopardy when a student forced to be vaccinated against wishes develops a vaccine injury and may sue the school."
Citing CDC guidelines, Risch argues that "mandates based on 2-dose vaccination are now useless."
According to the CDC, receiving two primary doses but not all recommended booster doses "provides minimal protection against infection and transmission." Even receiving booster shots only "provides a transient period of increased protection" that "can wane over time."
Studies have also indicated that the immunity naturally acquired through infection could be as effective, if not more so, than the vaccine-induced immunity, further questioning the need to mandate COVID vaccine shots.
"The level of protection afforded by previous infection is at least as high, if not higher than that provided by two-dose vaccination using high-quality mRNA vaccines," according to a research paper in The Lancet, one of the world's most prestigious medical journals.
Similarly, scholars Aaron Kheriaty and Gerard Bradley noted in a June 14 Wall Street Journal op-ed that colleges still enforcing vaccine mandates overlook the fact that many students already have infection-induced immunity, which "studies have suggested is more robust and durable than vaccine immunity."
Moreover, critics such as Kheriaty and Bradley argue that COVID vaccine mandates violate ethics by disregarding the fundamental medical principles of informed consent and individual autonomy. Forcing vaccinations on healthy, college-aged adults to achieve broader goals, such as herd immunity, treats them as a means to an end, which is ethically unacceptable.
"A person may freely choose to accept medical risks for the benefit of others, as when one donates a kidney for transplant," Kheriaty and Bradley wrote. "But there is no moral duty to do so. This is why we don't harvest organs without consent, even if doing so would save many lives."
When asked why some colleges persist in their mandates despite these concerns, Professor Zywicki said, "Perhaps it is some combination of virtue signaling, rampant neuroticism of administrators and faculty members, and just authoritarian control."
"[Mandating COVID vaccines] is a terrible policy," Zywicki added, "and it is time for universities to stop abusing their students like this."
MORE: No 'compelling' case to vaccinate healthy kids right now, says Johns Hopkins medical professor
IMAGE: Halfpoint / Shutterstock
Like The College Fix on Facebook / Follow us on Twitter