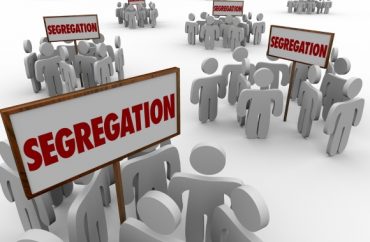 New study documents rise of 'neo-segregation' at universities nationwide
WASHINGTON, D.C. — The National Association of Scholars recently released a study documenting the voluntary racial segregation of students of color on nearly 200 college campuses across the country.
The association has coined this trend "neo-segregation," and noted in its report its rise returns college campuses to the "separate but equal" façade of the Jim Crow segregation era.
"The time has come to bring down the curtain on neo-segregation the way that the Supreme Court in Brown and the Civil Rights Movement brought down the curtain on the old forms of segregation," the report states.
The 216-page report is the result of two years of research. It documents 173 colleges and universities across the nation that offer a wide variety of voluntarily segregated programs, such as clubs, meetings, freshman orientations, housing and grad ceremonies.
"What we found was that neo-segregation is widespread if not pervasive. About 46 percent (80 colleges out of 173 surveyed) segregate student orientation programs; 45 percent (75 colleges out of the total) offer segregated residential arrangements; and 72 percent (125 colleges out of the total) segregate graduation ceremonies," the report states.
The segregated graduation ceremonies are held in addition to the main commencements all graduates attend.
"Though these arrangements are ostensibly voluntary, students can't easily opt out. We tracked numerous indicators of neo-segregation, from 'Diversity Fly-Ins,' (68 percent of the total) where colleges offer minority students an expense-paid segregated preview of the experience that awaits them should they enroll, to segregated alumni groups."
Additional items the study tallied included: segregated safe spaces, segregated mentorship programs, race-targeted scholarships, race conscious hiring committees, events exclusively for students of color and more.
The report also starts with an in-depth case study of Yale University's neo-segregation efforts since the 1960s.
The report argues this hurts students of color far more than it helps them.
"The most readily apparent harm from such segregation is that it fosters a sense of insecurity. The members of the segregated group are taught to fear other groups, especially white students," it states.
"They are encouraged to see themselves as victims or potential victims, and as heirs to past grievances. Training students to see themselves as vulnerable to the transgressions of a larger, intolerant or bigoted community is poor preparation for life in American society. Students who venture outside the segregated bubble may indeed encounter some hostile attitudes and racial stereotypes, but surely it is better to learn how to deal with these realities than to hide from them."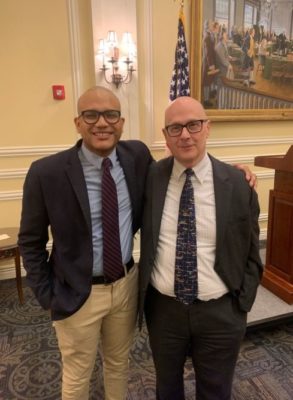 The nonpartisan National Association of Scholars, which independent and right-of-center scholars are often affiliated with, debuted the report Monday at Hillsdale College's Kirby Center on Capitol Hill. The co-authors are Dion Pierre (left), a research associate at the National Association of Scholars, and Peter Wood (right), the association's president.
At the event, Pierre, who is black, said: "It is our conviction that segregation in any form erodes our sense of national community, reduces the quality of intellectual life on campus, and perpetuates discredited racial thinking."
The event began with Dr. Wood defining neo-segregation as college campuses inviting students of color to separate themselves into distinct groups defined by race and ethnicity. He said he was prompted to embark on the study because of the recent proliferation of racially segregated graduation ceremonies.
The report states these ethnic enclaves stoke racial resentment and support grievance politics on campus that then trickles out into the nation as a whole.
"No doubt a large portion of the racial grievance politics we see in society at large these days is the carefully nurtured product of campus neo-segregation. We as a people are increasingly self-divided and well-supplied with stereotypes and invective to use against each other," the report states.
In an interview with The College Fix, Wood was asked his thoughts on the emergence of "white student unions."
"I would be as opposed to a white identitarian group as I would be to a black, Asian, or Native American identity group," he said, adding that he "agrees they probably exist somewhere in small numbers, but I don't think they have broad appeal to white Americans and certainly don't have the institutional propulsion that the other identitarian groups have — there is no university telling white students that they should join the white student alliance."
MORE: Black students demand segregated spaces from white students
Like The College Fix on Facebook / Follow us on Twitter