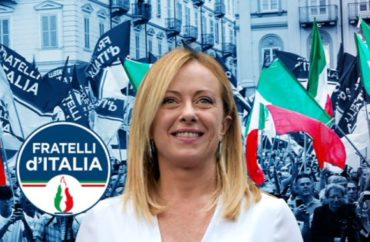 'In no way do I support fascism or racism in any form,' the punter tweeted, after getting backlash for positive comments
The punter for the University of Nebraska football team backtracked on his praise for Italy's prime minister-elect Giorgia Meloni after facing criticism on Twitter. He then called the Catholic mother a racist and a fascist.
"All Glory to God! Love this!" Briana Buschini tweeted, in response to a now famous 2019 speech from Meloni in support of the family and critical of collectivism," The Epoch Times reported. "Yet it was not long before the post drew backlash from Liberals, pushing the player to delete the original post and issue an apology," the news outlet reported.
"I want to take the time to apologize for a tweet I posted yesterday," he wrote in a statement. "I saw a headline from a speech the new Prime Minister of Italy made that seemed to support Christianity and family values. I unfortunately tweeted about this without knowing the background or history of this politician or the movement she is involved with."
— BRIAN BUSCHINI (@brian_buschini) September 28, 2022
"In no way do I support fascism or racism in any form," the punter wrote.
Buschini did not respond to a Twitter message on Friday morning that asked him for specific examples of things Meloni had said or policies she promoted that constituted fascism or racism.
Meloni's party, Brothers of Italy, can trace itself back to that of Italian fascist dictator Benito Mussolini.
She gave a speech in June that echoed many conservative, anti-globalist themes. "Yes to natural families, no to the LGBT lobby, yes to sexual identity, no to gender ideology, yes to the culture of life, no to the abyss of death," she said, as reported by Reuters. "No to the violence of Islam, yes to safer borders, no to mass immigration, yes to work for our people, no to major international finance."
Meloni said her views and that of the party are not supportive of Mussolini. "In an interview with Reuters last month, she dismissed any suggestion that her party was nostalgic for the fascist era and distanced herself from comments she had made as a teenager praising Mussolini, an ally of Nazi leader Adolf Hitler in World War Two, as a 'good politician,'" the news outlet reported.
"Meloni compares her party to the U.S. Republican Party and Britain's Conservative Party," Reuters reported. "Patriotism and traditional family values are exulted, while 'woke' political correctness and global elites are excoriated."
MORE: Racism is dead
IMAGE: Giorgia Meloni/Twitter
Like The College Fix on Facebook / Follow us on Twitter