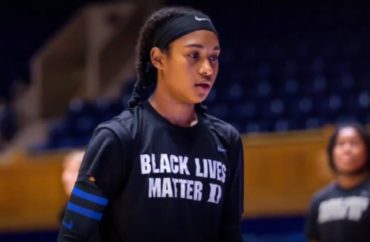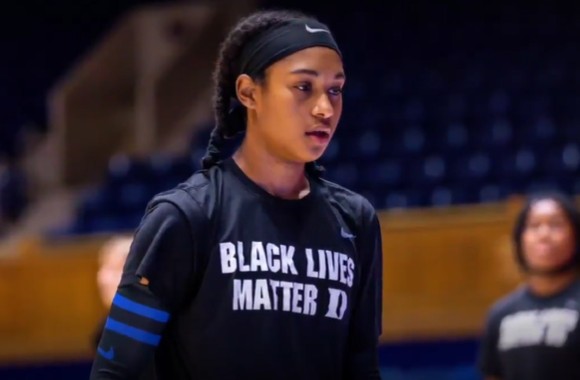 This past week it was revealed that yet another incident of racial intolerance was bogus — merely the latest in, unfortunately, a long line of such.
On Friday, The Fix reported there is no evidence to substantiate the claims of a black female Duke University volleyball player that she was subjected to racial epithets at a game against Brigham Young.
At the end of last month, Rachel Richardson (pictured) tweeted that she and her black teammates "were targeted and racially heckled throughout the entirety of the match." She said the slurs "grew into threats which caused [them] to feel unsafe."
Richardson's godmother, who coincidentally is running for elected office and has a history of anti-white comments, backed up the athlete's account and even took credit for disseminating the story. Naturally, the mainstream media ran with it, with CNN's Jim Acosta and Alisyn Camerota and ESPN's Stephen A. Smith among the big names.
USA Today's Mike Freeman's take really took the cake, however.
Did Richardson really hear something? Perhaps. It's much more likely no one said a thing to her. If Richardson's been paying even a little attention over the last few years (and it appears she has) she knows making the accusation she did would elicit just the response that it did — from the usual suspects.
Aside from the media, Duke President Vincent Price said the university is "fully committed to providing a safe, inclusive environment for competition," and would "not tolerate any racism or harassment of [its] student-athletes, coaches, staff, or fans." He added the volleyball team would get "any assistance and resources [it] may need."
MORE: Hoax cited as proof University of Utah 'failed Black community'
Duke Athletic Director Nina King said the school "unequivocally stand[s] with and champion[s]" the volleyball players, "especially when their character is called into question." Several days after the alleged incident, the Duke volleyball and football teams wore "Hate Won't Live Here" apparel in their home openers.
In addition, Duke's United Black Athletes group met with King to discuss changing the school's hate speech policy — such as "pausing any sporting event" if any racial slurs can be heard.
But perhaps the most significant response came from Dawn Staley, the women's basketball coach at the University of South Carolina. She decided outright to cancel her team's game against BYU slated for November.
You can bet that when the Duke community eventually wakes up and realizes this whole thing has blown up in their faces, they'll retreat into "teachable moment" mode — that despite the fact nothing actually happened it nonetheless could have … because we exist in a still-deeply racist society.
One would think Duke would be especially careful in this particular case. Remember the so-called Duke "Gang of 88"? They were the academics who signed off on a statement backing the stripper who falsely claimed she had been raped by members of the Duke lacrosse team.
MORE: Hate hoaxes are on the rise to meet the demand for racism
IMAGE: Holly Rowe/Twitter screencap
Like The College Fix on Facebook / Follow us on Twitter