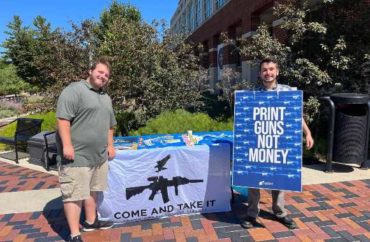 'Creighton's administration acts like its students are children,' Young Americans for Liberty representative said
Creighton University will not remove its ban on pro-Second Amendment posters despite a student libertarian group fighting over the last several months to overturn the policy on First Amendment grounds.
The private Omaha, Nebraska-based school ordered student members of Young Americans for Liberty to remove political posters and materials bearing images of guns and slogans that some found offensive last semester.
Additionally, the university informed then-chapter leader Mason Wood that he had to fill out paperwork to host a distinct "Controversial Event" when seeking to distribute a petition to end the university's campus ban on images of defensive weapons.
YAL told The College Fix through a media representative on January 24 that the Creighton administration has maintained its ban on imagery containing guns, even in Second Amendment-related political speech.
JP Kirby, YAL's director of student rights, told The Fix in a Jan. 24 statement provide to The Fix that it's "surprising to me that institutions such as Creighton that claim to be places of higher learning can take themselves seriously while censoring and chilling student speech in this way."
"While the Second Amendment remains one of the top political issues in the country, Creighton's administration acts like its students are children—unable to handle the image of a common firearm or know how to speak about issues without permission from a bureaucrat," Kirby added. "We at YAL trust our students as the free-thinking adults they are and we support their rights to share their beliefs with others."
Sarah Giacomini, assistant director for programming and student organizations, told Wood in a Nov. 16 email that "we will not allow any images of guns to be used."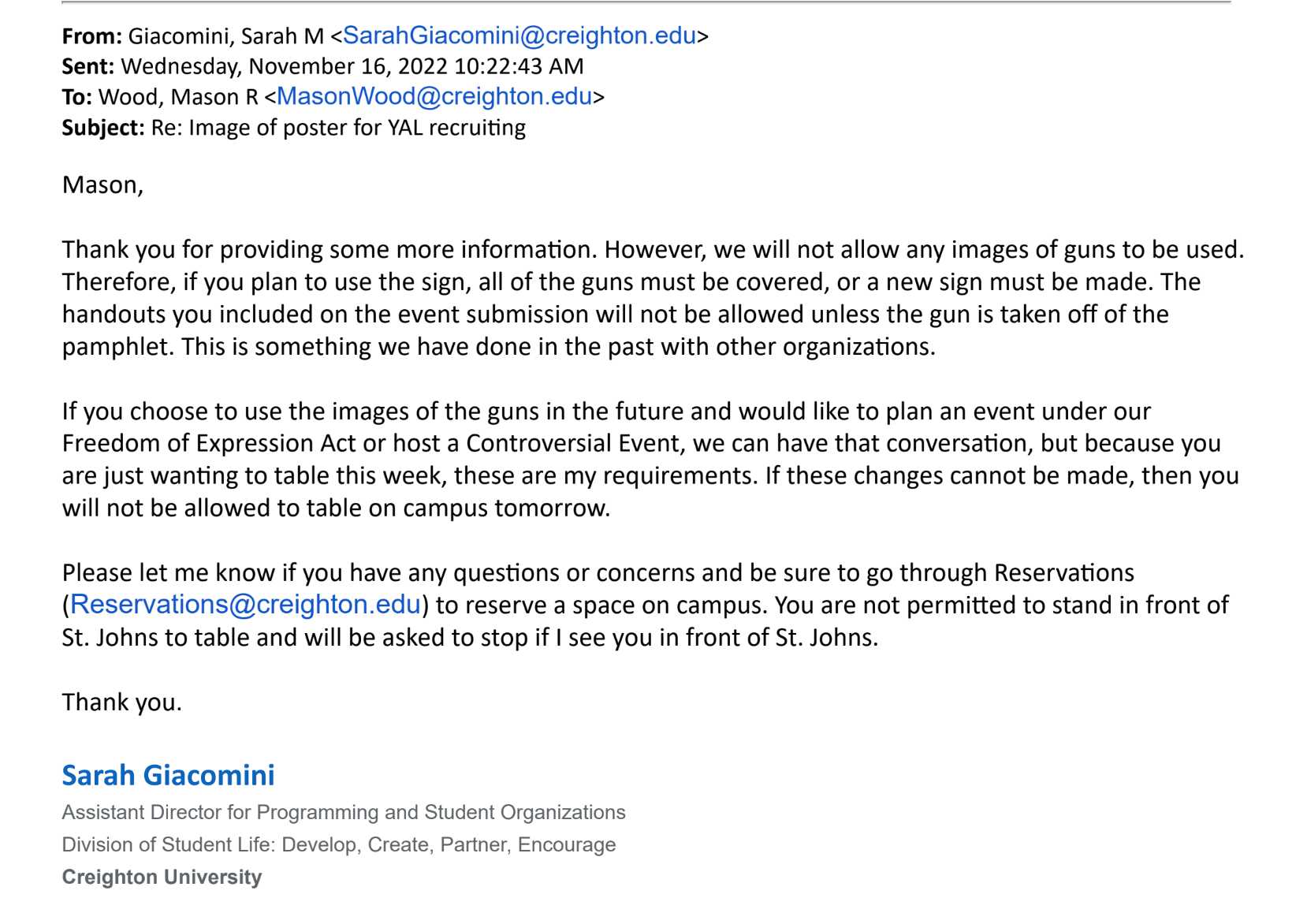 In an earlier incident, in September 2022, Creighton security escorted YAL Deputy Regional Director Anton Mirzayantsoff off of Creighton's campus for carrying a "Print Guns, Not Money" poster, Kirby said.
YAL's Fight for Free Speech program "has nearly a decade of experience fighting and overturning poor and unconstitutional speech policies on campus across the country," Kirby said via email. "While I don't foresee YAL pursing any legal action due to the school being a private entity, we are committed to holding Creighton accountable to uphold its own standards of academic discourse and intellectual freedom."
Haley Gluhanich, a program officer with the Foundation for Individual Rights and Expression, expressed concern with the university's stance in an email to The Fix.
"Although Creighton University is a private institution, its Student Handbook guarantees its students the right to freedom of expression," Gluhanich said.
"A university cannot promise expressive freedoms and then apply content-based restrictions to deny students' expressive material that is subjectively offensive or controversial, like images of guns. Such restrictions betray the promises that Creighton University has made."
The Fix reached out to Casey Hoag, the spokesperson for Creighton University, twice as of Jan. 24 to ask for clarification on their free speech policy and whether their specific restrictions of First Amendment speech violates the student handbook. It has not received a response.
Editor's note: The article has been updated to clarify the attribution of information on the status of the policy.
MORE: Ibram Kendi links 'freedom to enslave' with gun rights
IMAGE: Young Americans for Liberty
Like The College Fix on Facebook / Follow us on Twitter