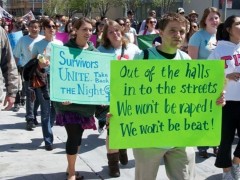 California's affirmative-consent law for campus sexual relations is less than two weeks old, and supporters continue to speak of its benefits – some in pretty odd ways.
The California Aggie reports that Sarah Yang, the former president and co-founder of the Women's Health Initiative at the University of California-Davis, says the law corrects an imbalance that favors accused students:
"It takes a lot of strength to report in the first place, and having to deal with an administrator that doesn't understand the whole situation is very difficult. [SB 967] puts pressure on the universities to have administrators and programs available so that [victims] have other resources to go to if one isn't giving them what they want" …

This bill does not implement a transfer of power between the victim and the perpetrator according to Yang; it aims to give victims a fighting chance.

"It gives the universities more incentive and pressure to find more evidence where there is none," Yang said.
"Find more evidence where there is none" sounds like inventing evidence, or taking one person's claims uncritically while silencing the other – something schools are arguing they are not doing, even under the "yes means yes" standard.
It's not clear that Yang realized she was validating the claims of critics who say the California law creates a heavy burden for accused students to defend themselves.
Yang also has unkind words for UC-Davis's official in charge of handling sexual-assault complaints:
As far as changes specific to the UC Davis, Yang hopes that the bill will encourage officers on campus to work more actively toward victim advocacy. She expressed her disappointment with the Title IX officer on campus for being unhelpful in this capacity and said that they are neither working nor taking recommendations from the California Coalition Against Sexual Assault.
That official appears to be Wendi Delmendo, who doesn't show up in The Aggie's coverage for any sexual-assault related story.
The California Coalition Against Sexual Assault is a lobbying group that offers "expert and interactive training on a range of topics and for a variety of audiences, including disciplinary officials, faculty, staff, law enforcement, community partners, administration, students and other groups." It repeatedly describes its mission as "survivor-centered" or "survivor-driven," and speaks of "perpetrators" but not "accused" students.
Like The College Fix on Facebook / Follow us on Twitter