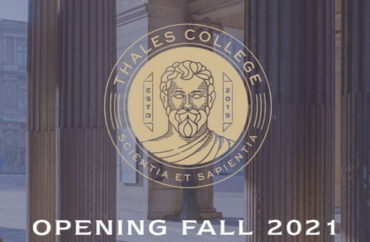 UPDATED
Thales College slated to open in Raleigh, North Carolina, in the fall of 2021
This fall, a higher education institution is set to open that pledges to offer a unique approach to college, one that combines both an emphasis on vocational education as well as Socratic-styled seminars.
Thales College is scheduled to be open year-round and aims to prepare students to enter the workforce and give them the experience they need while earning their degree, said Clifford Humphrey, its director of admissions.
The college will launch with a soft opening this fall with local dual-enrollment courses, then welcome degree-pursuing students starting in 2022.
"We are offering a different model for how to do college," he said in a telephone interview with The College Fix.
For one, the college will encourage students to dress as if they're going to work, and not just throw on a pair of sweatpants for class, which will help them "start taking on the identity of adults," according to a news release from the school.
Humphrey also emphasized the college's focus on vocational education.
"The ways we are unique are that we emphasize career preparation through internships required during the second year," he said in his interview. "The idea is to learn about a specific industry, network, work with employers and employees."
Not only will the college prepare students for their future job, but it also plans to have a strong liberal arts program. The way Humphrey put it, all students will leave the college with both a liberal arts and a professional degree.
He said this means that all students will be well-versed in their knowledge of both Western Civilization and real-world smarts.
"If you go to #ThalesCollege, & you develop great character, & you have a high level of skills, you will be in demand for the rest of your life, providing you maintain a good attitude & a good work ethic."

– Bob Luddy, founder of Thales College pic.twitter.com/cXdz8H3Q4a

— Thales College (@ThalesCollege) January 19, 2021
Thales College is named for one of the ancient Greek philosophers who emphasized the importance of not just practicing, but also using, philosophy.
"Students use philosophy to know thyself and apply that in useful ways to make their lives better," Humphrey said.
Another major difference for Thales?
"Instead of hiring administrators who exist more to satisfy the meticulous needs of accreditors, we will not pursue accreditation and will let our name and our students speak for our worth, once employers hire our students and see the difference between them and students from standard schools," according to its news release. Instead, it is a licensed institution by the UNC Board of Governors.
Humphrey said that the only benefit colleges receive from accreditation is accepting FAFSA, but due to Thales' emphasis on financial responsibility, it is not participating in the program, nor will it accept federal financial aid.
Thales is also forgoing cafeterias, fancy gyms, and residence halls, but it will "facilitate partnerships with existing places in the community, whether gyms, concert halls, museums," its news release states.
All that, combined with a year-round education calendar, means students can graduate in three years with little debt, Humphrey said.
Its website states tuition is $4,000 per term, which "enables students to graduate without crippling debt." It adds that with its "dual-degree program," every student will graduate with two bachelor's degrees, a B.A. in liberal arts and sciences, and either a B.A. in entrepreneurial business or a B.S. in mechanical engineering.
Ultimately, Thales aims to provide students with "the knowledge, thinking and professional skills, and character traits necessary for competence and success in today's work environment," its website states.
Due to the pandemic, the college has seen a decrease in applications, but Humphrey said he is confident that it will hold on-campus classes when it opens this fall.
Along with this, it will also offer a dual enrollment program for high school students local to the area.
Thales College was founded by Robert Luddy, a successful businessman who owns a large manufacturer of commercial kitchen ventilation systems. In 2007, Luddy founded Thales Academy, a network of K-12 private schools primarily in central North Carolina.
"On the one hand, the success of Thales Academy gave Bob Luddy confidence to believe that Thales College could also be successful," Humphrey told The Fix.
"On the other hand, though, I think Thales College has been something Mr. Luddy has been interested in separately from Thales Academy because it is an opportunity for him to offer an education in career fields he believes are important," Humphrey added, citing fields such as entrepreneurial business and mechanical engineering.
"The liberal arts are also important to Mr. Luddy, though, so he thinks Thales College can stand out from standard STEM programs at other schools by offering a good basis in humanistic studies as well."
Editor's note: After publication, the college informed The College Fix that Thales will begin with a soft-opening this fall with dual-enrollment courses, then open to degree-pursuing students in 2022. The article has been amended to reflect this.
MORE: New Utah-based small private college aims to provide a classical education
Like The College Fix on Facebook / Follow us on Twitter