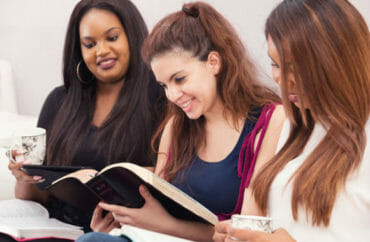 Muslim group denounces administrators using 'their own shifting, unpredictable standards'
The Department of Education released its final regulation on "religious liberty and free inquiry" Wednesday, eight months after starting a rulemaking on the two subjects. The broad outlines appear to be the same as what the department proposed, leveraging federal grants – but not federal student aid – to compel compliance.
Public colleges cannot withhold "any right, benefit, or privilege" from religious student groups that it grants to other student organizations, according to a two-page summary of the 246-page regulation, which takes effect 60 days after being published in the Federal Register.
This prohibits "discrimination against religious student organizations because of their beliefs, practices, policies, speech, membership standards, or leadership standards, which are informed by sincerely held religious beliefs." Christian student groups in particular have been denied or stripped of recognition for requiring leaders to abide by biblical rules for sexual conduct.
Muslim, Jewish and Christian groups praised the new regulation in statements given to The College Fix by the same communications firm.
University officials should not pick and choose Muslim student group leaders "based on their own shifting, unpredictable standards," rather than letting them "define their own mission by their faith's principles," said Ismail Royer, director of the Islam and Religious Freedom Action Team for the Religious Freedom Institute.
"Religious groups should be encouraged on campus," said Rabbi Abba Cohen, vice president of Agudath Israel of America. "It simply defies logic, and undermines their very effectiveness, when religious groups are forced to forfeit leadership policies that better insure adherence to their religious mission, beliefs and practices."
Greg Jao, director of external relations for InterVarsity Christian Fellowship, said the regulation was "unfortunately necessary" because some universities withheld official recognition on the grounds that religious student groups "expected their student leaders to agree with their religious beliefs." The regulation will "encourage tolerance, pluralism and religious diversity."
MORE: Feds threaten funding of colleges that treat religious groups differently
A Christian campus ministry focused on historically black colleges and universities said that educational institutions were harming students of color when they interfere with "their religious traditions." Impact Movement President Jimmy McGee said faith traditions "uniquely support and sustain students of color on campus. Our beliefs are not interchangeable or negotiable."
Under the new regulation, public colleges must honor the First Amendment rights of their community members, as well as academic freedom, and private colleges must follow their stated institutional policies for free speech and academic freedom. The feds will only strip grant funding following a "a final, non-default judgment by a state or federal court" that a college has violated these constitutional or contractual rights, the two-page summary says.
Noncompliance may trigger "existing remedies," including "temporarily withholding cash payments pending correction of the deficiency, suspension or termination of a federal award, and potentially debarment."
The regulation also codifies for the first time how the department determines a college is "controlled by a religious organization" for the purpose of Title IX exemptions. The department says the regulation includes "a non-exhaustive list of criteria that an educational institution may use" to satisfy this definition.
The introduction to the 246-page document says the department's Office for Civil Rights was already using these factors, many of which "have been included in nonbinding guidance dating back more than 30 years."
It is constitutionally obligated not to treat religious institutions differently based on their "respective theologies," including the structure of their governance, such as "hierarchical" or "congregational." The department also must consider the Religious Freedom Restoration Act and "must not substantially burden a person's exercise of religion through its regulations."
Read the two-page summary and 246-page regulation.
MORE: Court holds U. Iowa officials personally liable for anti-Christian discrimination
IMAGE: Dream Perfection/Shutterstock
Like The College Fix on Facebook / Follow us on Twitter