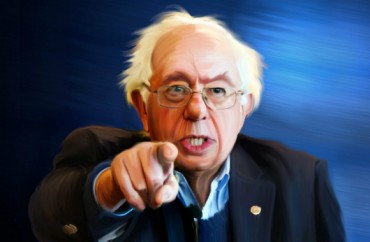 In early April, presumptive Democratic presidential nominee Joe Biden added two items to his platform that came right from that of his primary challenger, Vermont Sen. Bernie Sanders.
Biden offered to lower the eligibility age for Medicare from 65 to 60 and to forgive all student debt for low- and middle-income students who attended public colleges or some private colleges that serve minority students.
"Senator Sanders and his supporters can take pride in their work in laying the groundwork for these ideas, and I'm proud to adopt them as part of my campaign at this critical moment in responding to the coronavirus crisis," said Biden at the time.
The bromance goes both ways: Days later, Sanders endorsed Biden.
But even with two unsuccessful presidential campaigns behind him, new details about Sanders are still trickling out. This week, Casimir Zablotski, writing in the Alexander Hamilton Institute's publication, Enquiry, reflected on Sanders' brief tenure as a professor at Hamilton College in 1990.
Zablotski unearthed a course catalogue for the Spring 1990 semester, where he found descriptions for two classes taught by Sanders:
235S Democracy and Socialism: An examination of the current state of American democracy and a look at democratic socialism as an alternative to capitalism. Why are the richest people in America getting richer, while the poor are getting poorer? Why are our citizens increasingly not voting? The role of Big Money and the media in perpetuating capitalist ideology. Democratic socialism and its relevance to democratic values as the United States enters the 21st century.

335S The Problems and Potential of Urban Life: An examination of such urban problems as weak and corrupt political leadership, low citizen participation, crime, failing educational systems, deteriorating infrastructure, unhealthy environment, low-wage jobs, and homelessness. The importance of cities for the cultural and intellectual life of the nation. The quality of urban life and the role of recent federal policy. Field trips to various governmental agencies in Utica integral to the course.
Even today, political observers argue what Sanders' status as a "Socialist" means. Does he subscribe to the watered-down democratic socialism in Europe, or does Sanders see an even greater role for government?
Zablotski has some thoughts, based on who Sanders was before we knew him:
"Many have debated whether he is a social democrat, a democratic socialist, or something more radical, despite his insistence that he is a democratic socialist and not something else. Sanders appears to be deeply indebted to Karl Marx, and at Hamilton he mediated an open discussion titled "Marxism: A Rescue Attempt?" along with [then-head of the Hamilton Sociology Department Dennis] Gilbert.

Sanders opened the discussion by pitting capitalism and socialism against each other and asserting that the former had not defeated the latter, even with the imminent demise of the Soviet Union. He argued that there were many serious problems in capitalist societies which needed to be addressed, ranging from poverty and wealth inequality to the lack of universal health care — issues which Sanders continues to focus on today.
Zablotski continues:
The rest of the discussion seems to have dwelled on theoretical applications of Marxism, with Gilbert assessing Vladimir Lenin's idea of the vanguard (leading and only useful) party as a "powerful but problematic idea." Professor Robert Kurfirst, a visiting instructor in the Government Department at the time, argued that Marx's ideas are still relevant if they are detached from the idea of revolution. While Sanders is not recorded as having joined the discussion after his opening remarks, it is safe to assume that he agreed with his colleagues that changes in or replacement of capitalism, whether it be the abolition of private property that Marx desired or a simpler drive for equality, must be brought about democratically.
Zablotski goes on to discuss Sanders' fondness for the Nicaraguan Sandanistas, the lack of a footprint Sanders left in his brief time on campus, and whether Sanders has softened his opinions since his time at Hamilton.
Given that Sanders' ideas are still making their way into political platforms, this time through Joe Biden, where he came from is still relevant.
Read Zablotski's whole piece here.
MORE: Student body prez faces impeachment b/c Trump Jr. agreed to campus speech
IMAGE: Shutterstock.com
Like The College Fix on Facebook / Follow us on Twitter