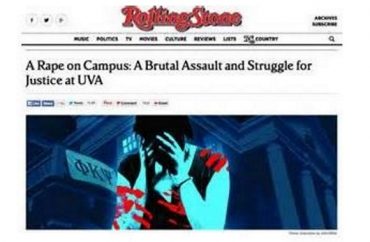 A lawsuit against Rolling Stone for publishing a story in 2014 about a young woman at the University of Virginia who said she was viciously gang-raped by a bunch of frat guys — an article that was ultimately retracted by the magazine after the claim was discredited — continues to shed light on how off-base the reporting in it was.
New evidence suggests U.Va.'s Jackie, the woman who claimed she was raped, didn't just make up the attack — she also made up her rapist, according to attorneys representing Dean Nicole Eramo, who is suing Rolling Stone for the way in which it portrayed her in the now-infamous article "A Rape on Campus: A Brutal Assault and a Struggle for Justice at UVA."
Ashe Schow of the Washington Examiner reports:
"Haven Monahan" was the name of the man Jackie told her friends she had a date with and who allegedly orchestrated the alleged gang rape she later described. …

Eramo's attorneys had asked Jackie and her lawyers to turn over all information relating to Monahan, and they claimed they had. Eramo's recent court filing alleges, however, that someone from the Stein Mitchell law firm, which is now representing Jackie, accessed the Monahan email account on March 18, 2016. Eramo and her lawyers write in their latest court filings that this new information leads to "only one logical conclusion: Jackie is 'Haven Monahan.'"

Four days after they accessed the Haven Monahan email address in March, Jackie's lawyers sent Eramo another letter claiming "that Jackie was not in possession of these emails." Thus, the new court filings also indicate that Jackie and her attorneys have not complied with a court order to turn over all relevant materials in her possession. Eramo's lawyers add that Jackie is "a serial liar who invented" her account of being gang raped by fraternity members as part of an initiation ceremony.
RELATED: Judge — Jackie Coakley not covered by patient-counselor privilege in 'Rolling Stone' defamation suit
Like The College Fix on Facebook / Follow us on Twitter
Like The College Fix on Facebook / Follow us on Twitter